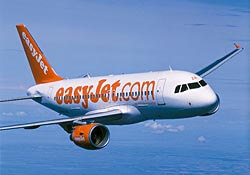 easyJet launched their airmiles credit card together with Citibank back in February last year. It's a normal MasterCard, except that you'll collect easyJet Miles for using it.
What the easyJet MasterCard will give you
Starting off, there's an initial offer. If you spend £250 on the card within the first 90 days, easyJet will give you 4,000 easyJet Miles, which are worth £40 towards a flight, including taxes.
Advertisements:



After this, your spending on the card will give you:
| | | | |
| --- | --- | --- | --- |
| UK spend | £1 | = | 1 easyJet Mile |
| Overseas spend | £1 | = | 2 easyJet Miles |
| easyJet flight spend | £1 | = | 3 easyJet Miles |

With each mile being worth 1 pence, your credit card cash back equivalent value would be between 1-3% of what you spend. Anything you spend on travel insurance, accommodation, or car rentals on easyJet.com also gives you 3 easyJet Miles per £.
Keep in mind that you're not actually getting 'miles' with this card like with traditional airline-based loyalty programs. You can't exchange your miles for a ticket type once you get 40,000 miles. What you do get is a giftcard-like credit towards purchases on easyJet.com. Keep that in mind, so you're not surprised that it doesn't work like on American Airlines or British Airways when redeeming miles.
Tips to maximize your easyJet credit card benefits
To make sure you get a benefit from the easyJet Miles card, pay off your bill in full each month. That way you avoid paying interest, which runs much higher than any value you get from your collected airmiles.
Whatever you do, don't be tempted to use your card to get cash out from an ATM. Not only is there a 3% / £5 maximum charge for this, but the interest rate will all of a sudden be a new and astronomical rate.
Do use the card to pay for everything if you really want those flights. Food shopping, car fuel, your online shopping... it all adds up quite quickly and as long as you don't pay interest, the Miles are a free benefit. The same advice goes for any awards credit card.
What the fine print says
Without checking the brochure they send out with the card, there are the following things to keep in mind:
Interest rate will be about 16.9%
Interest rates on cash advances will be much higher!
There's no annual fee
You get free accident travel insurance, but only if you book on easyJet.com
The offer free fraud protection, like every other credit card
My thoughts on the easyJet airmiles credit card
This card can be a useful tool to get free travel. As long as you pay off your bill in full every month and use it for everything you buy, the Miles will add up quickly.
Having said that, I don't use mine anymore as it isn't as valuable as my other rewards card, from which I get cash at the end of the year. Your mileage may vary.
Have you used or are you using the easyJet Miles credit card? What are your thoughts on it?
You should follow me on twitter here.