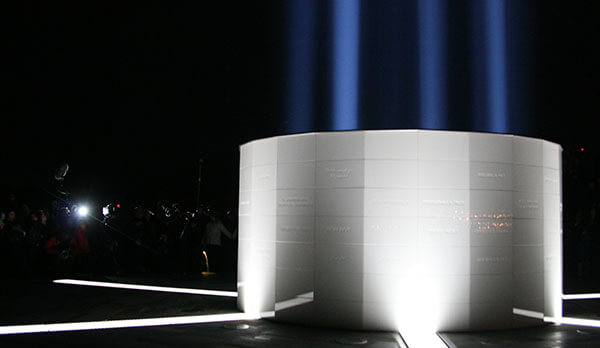 Imagine a place so beautiful that tingles go up your spine just when you see photographs of the enchanting Icelandic destination. IMAGINE PEACE TOWER is an original gift of art given in honor and memory of John Lennon, of the Beatles musical group, by his loving widow, Yoko Ono Lennon.
Advertisements: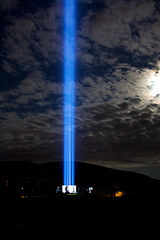 This memorial was birthed by a collaborative effort by Yoko, the City of Reykjavik, geo-thermal energy company Reykjavik Energy and the Reykjavik Art Museum. A modern "wishing well" shaped piece of art that sends a beam of light into the heavens, carrying all the wishes gathered from Yoko's wishing tree project. Wishes buried under the base, and also wishes of visitors are sent out into the universe through this amazing volume of light powered by green geo-thermal energy.
Wondrous "Northern Lights" sometimes mingle with this transcendent portal of light, making it a photographer's wonderland. This focus of energy is released on John Lennon's birthday (Oct. 9) through the date when he was shot (Dec. 8) then it rests until (Dec 21-28), when it explodes with luminous beams during the Winter Equinox.
Again, on New Year's Eve, this monolith of brightness soars into the sky to celebrate the coming of a New Year. IMAGINE PEACE TOWER is also lit to celebrate Yoko Ono Lennon's birthday (Feb 18) and again March 21- 28, in honor of the couple's honeymoon which coincides with the Spring Equinox. Love is honored at this place.
Ancient explorer Eric the Red named Iceland, quite possibly, to dissuade others from sharing this remarkable island with him. Beauty lives here in many forms. Food delicacies, various family friendly enjoyments, golfing, fishing, thermal pools, spas, skating, hiking, and just gorgeous scenery.
Ancient Nordic lore, environmentally friendly businesses, unusual architecture, friendly inhabitants make this a utopia for the traveler in every human. Visit Imagine Peace Tower, a once in a life time destination that could be your favorite place to return. Ferry boat and bus schedules can be found on the official website. Sometimes transport is offered free when the IMAGINE PEACE TOWER is illuminated.
The live feed of the tower teases us with amazing Aurora Borealis even when the IPT is resting, waiting for it's time to shine. Venture to Iceland, see "Imagine Peace" written in twenty-four different languages on the tower. Witness the Earth at it's cleanest, most pure destination. Make a trip to the island to experience a token of lasting love that transcends time. Iceland is not the land of Ice….
Imagine Peace Tower location and hours
Imagine Peace Tower
Viðey Island
Reykjavík, Iceland
The Imagine Peace Tower is accessible round the clock.
Photos by 1541 (1) and mckaysavage (2) on flickr
You should follow me on twitter here.