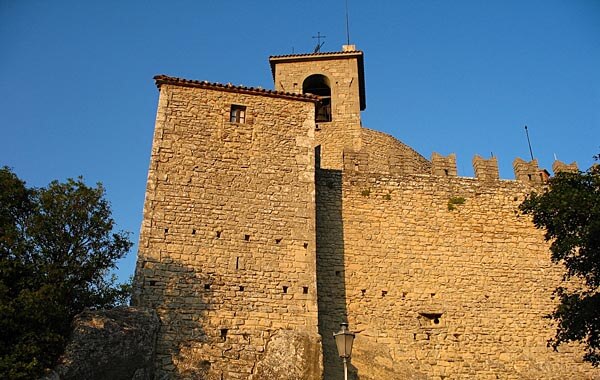 Built in the 10th century, overlooking the city of San Marino below, this massive fortress Castello de la Guaita offers a beautiful and exciting look into the past coupled with birds-eye views spanning for miles. The fortress of Guaita is a mark of impressive architecture, built with incoming invaders in mind. Invaders had no chance but to be spotted and the city defended. This fortress is the oldest of the three towers, Guaita, Cesta and Monatale's which are located around the city. The first tower, Guaita can not be missed during a trip to San Marino, literally. This gorgeous structure commands attention, even in our 21st century world.
These lovely remains of the Middle Ages loom over the city as guardians. The Guaita is build onto the stone of the mountain with a pentagon-shaped base. Used as a prison up until the 1970's this fortress holds many political, historical and military memories. Open year round at various times, the Guaita can be visited as a solitary destination or paired with a visit to the Second Tower, which is home to the Museum of Ancient Weapons. The costs are very reasonable and family friendly, keep in mind prices and opening hours are subject to change. Find updated information from your travel guide or by calling ahead.
Advertisements:



San Marino is a destination thick with culture, history and impressive castles. While visiting these impressive structures you will not be unimpressed by your natural surroundings. Hosting thousand upon thousands of tourists each year, San Marino offers the chance to see nine castles, numerous monuments, museums, celebrations, breathtaking scenery, a variety of gastronomical delights and plenty of shopping! The San Marino Republic is 700 meters above sea level, and only 15 km from the Romanga Riviera. With a Mediterranean climate and rich flora including olive, fir, pine, oak, beech, elm and poplar trees and a wide variety of wildlife, San Marino offers endless chances for adventure.
Castello della Guaita location
Castello della Guaita
San Marino
You will find the Guaita tower along the city walls, can't miss it
Photo by Toscano 2011 on flickr
You should follow me on twitter here.