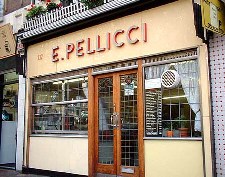 If you're visiting London, a stop at a classic greasy spoon cafe is a must for a genuine experience.
What's a classic cafe?
The classic Italian-run Formica cafes of the 1950's molded English culture, never more so than in London. From Classic Cafe's history:
Advertisements:



"Within a decade of the first Soho espresso bar, The Moka at 29 Frith Street, being opened in 1953 (a model for classic Formica cafes to come) London became the world's hippest city: a ferment of music, fashion, film, photography, sex, crime, scandal and avant-gardism."
To be a classic cafe, the chairs and tables are cheap, covered in Formica, used for decades and the tableware well worn. You're able to tell the place has been there for a good long while and there's history in the walls. Walls that are normally covered in photographs of random celebrities at that!
These fantastic places are now disappearing because of fierce competition from the likes of Starbucks and Caffe Nero, who create a coffee shop monocultue in London.
Finding a classic cafe
The Classic Cafes website has listings of London's best cafes, complete with reviews and lots of background.
A Classic Cafes coffee table book

You can also buy a coffee table book called Classic Cafes
from Amazon. Another book on this is London Caffs
, which is a bit cheaper from Amazon.
A tip to the London visitor
Definitely visit a classic cafe, they're some of the cheapest places to eat in London! I can recommend the Don Quixote Sandwich Bar in Holborn, which is open all night to boot.
You should follow me on twitter here.