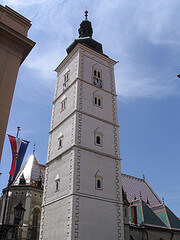 Only four stories tall, Lotrščak Tower may initially strike you as being quite small. However, the tower is built on the highest point in Gradec and on a clear day offers views of the city extending up to five miles. The tower was originally built in the 13th century as part of the city's ramparts. Fitting with its original purpose, the tower has walls over six feet thick.
Lotrščak Tower gained a new function in 1877. A cannon fired from the top of the tower signaled noon for all the church bell-ringers. Visitors wishing to see the firing of the cannon should arrive on site well before noon to grab a spot at the top of the tower. The tower also houses the Zagreb City Museum. There is a modest entrance fee which covers both the tower and the museum.
Advertisements:



Photo by mkuhnert on flickr
You should follow me on twitter here.