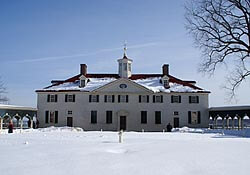 If there was an unofficial state house of the United States, Mount Vernon would surely fit the bill. Built in the 1700's this majestic mansion was home to the first President George Washington and his equally famous wife Martha. The 500 acre estate is nestled along the picturesque Potomac River. It has been lavishly restored to its original splendor and became a National Historical Landmark in 1960.
On entering the estate, a visitor's sight and senses are assaulted by the massive plantation style main mansion. Carefully tended gardens filled with flowers such as crown imperial, larkspur, and English roses punctuate the air with its delicate aroma.
Mount Vernon is like a small contained city unto itself. The main mansion has 14 rooms which has been decorated with original period furniture. In addition there is a smokehouse, wash house and laundry, blacksmith shop, paddock and stables, distillery and mill. Most poignantly is also the carefully preserved slave quarters. The austere, sparse living conditions provides an interesting contrast to the bountiful riches of the rest of the estate.
The Washingtons lived at Mount Vernon for over 45 years. In fact, it became his refuge from the hustle and bustle of politics and the White House. The family is buried on the property.
Advertisements:



The estate is available for public viewing. The estate is open every day including Christmas Day. The cost is $13 for adults and $6 for children. So if you are ever in Washington try not to miss Mount Vernon. It will give you a glimpse of what life was like in colonial times.
Mount Vernon address and hours
Historic Mount Vernon
3200 Mount Vernon Memorial Highway
Mount Vernon, VA 22309
Mount Vernon is open 365 days of the year!
April through August, 8:00 a.m. - 5:00 p.m.
March, September, and October, 9:00 a.m. - 5:00 p.m.
November through February, 9:00 a.m. - 4:00 p.m.
You should follow me on twitter here.