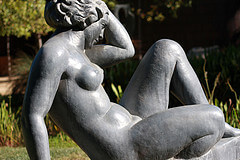 The Norton Simon Museum of Art in Pasadena, California is an exciting and informative way to learn about art history, and the forms that art has taken around the globe. Beginning as an art institute in 1922, the museum currently specializes in Asian, European, Modern, and Contemporary art, as well print photography.
Advertisements:



It features world-renowned artists such as Rembrandt, Picasso, famous Indian paintings and sculptures, Vincent van Gogh, Jean-Auguste-Dominique Ingres and Francisco de Goya. In addition, the art museum periodically hosts exhibitions on various aspects of art, such as engravings made by William Hogarth, rare paintings from Nepal, and French 18-19th century paintings. Visitors are given plenty of options, such as private tours, access to the sculpture garden all year-long, take photos of the artwork, and even draw copies for their own personal enjoyment.
Museum events are varied, including adult drawing classes, dance performances, adult art history classes, lectures, film showings, and musical performances. It provides education for adults, teens, teachers, and families, including festivals, tours on the art of the modern world and in Europe, and workshops on printmaking. To enhance the art experience online, the museum is offering audio tours, podcasts, brochures, mobile apps, and videos showcasing the variety and quality of the museum's pieces, which gives art enthusiasts even more incentive to come see the artworks in person.
The Norton Simon Museum has an online store where it sells notecards, Asian and Floral art prints, children's books, books on architecture, sculpture, photography, and drawing. This online store also sells music and DVDs for adults and children, as well as tote bags, reproductions of famous Asian artworks and sculptures, as well as desk accessories. In conclusion, the Norton Simon Museum of Art is a great cultural and historical force in Pasadena, with a wide variety of intriguing works of art, as well as mind-expanding accounts of the artists we admire, all combined with a plethora of ways that the visitors and art enthusiasts can interact with their favorite subjects.
Norton Simon Museum of Art address and hours
Norton Simon Museum of Art
411 W. Colorado Boulevard
Pasadena, CA 91105-1825
Hours: Monday 10am - 6pm, Tuesday closed, Wednesday - Sunday 10am - 6pm
Photo by Parker Michael Knight on flickr
You should follow me on twitter here.