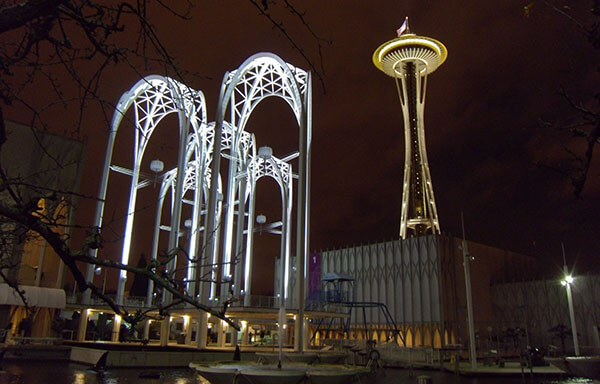 Seattle, Washington is the home to an independent, non-profit science museum known as the Pacific Science Center. The original building of the center was the United States Science Pavilion in the 1962 World Fair that was held in Seattle. In the entrance way are fountains that a lit at night, but are "stars" in there own right by being in the movie "It Happened at the World's Fair" with Elvis. After closing of the world's fair the museum was then opened as the Pacific Science Center and paid just $1 a year to lease the land and the building until 2004. In 2004 the title deed was signed to the foundation.
When visiting Seattle make it a point to stop at the Science Center for the day. Today the museum has eight building which include 2 IMAX theaters, the world's largest Laser Dome Theater, a planetarium, butterfly house and hundreds of hands on exhibits that will not only entertain but be informative for you and the kids. Each of the eight buildings is dedicated to different science area or discovery to enjoy.
The museum has traveling exhibits so when you are in town you will be surprised as to what new there is to be seen from other places such as China, the Titanic, and Discovering the Dead Sea Scrolls. One of the most recent exhibits that will thrill everyone is the Harry Potter exhibition and coming soon "Star Wars: Where Science Meets Imagination."
Each year there is an annual Festival of the Fountains which is an outdoor black tie gala and known as one of the summers best parties which will be held with dinner and entertainment in the courtyard.
So whether you are going with the kids to see the exhibits or decided to spend the evening at the Festival of the Fountains, the Pacific Science Center is the place to go.
Pacific Science Center address and hours
Pacific Science Center
200 2nd Avenue North
Seattle, WA 98109
Mon-Fri 9:45 a.m. - 5 p.m. and Sat-Sun-Holidays 9:45 a.m.-6 p.m.
Advertisements:



Photo by Beaster725 on flickr
You should follow me on twitter here.