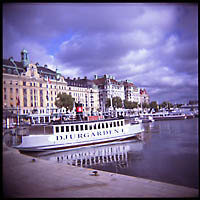 I'm soon traveling to my native Sweden with my wife, who hasn't yet visited the country. Here are the pages I'd like to share with her, and you, about Stockholm, Sweden's capital city.
The draw of Stockholm
The character of Stockholm has changed since I was a child visiting from my small town in Dalarna. It has become more cosmopolitan and colorful as the immigrant population has grown and established roots, creating businesses and influencing culture. Combined with the more outward-looking Sweden after the country joined the European Union in 1995, Stockholm is now a major destination for arts, sami handicrafts, design, technology and fashion. The New York Times picked up on the allure of Stockholm in a guide last year.
While not on the scale of London or Paris, Stockholm has a pleasant city center with pedestrianized streets, plenty of museums and sightseeing, water everywhere, shopping, cafes and a richness of history. It's Sweden's cultural and political center with a vibrant nightlife and pleasant parks.
Museums and sightseeing
There are over 70 museums in Stockholm. Here are some of the best:
A comprehensive listing of the sightseeing tours in Stockholm from Visit Stockholm.
Shopping in Stockholm
Shopping districts
Stockholm has shopping worthy of a world city. The trendies congregate around SOFO, which stands for 'South of Folkungagatan' (a street) on Södermalm. Here you find cafes and hip young boutiques.
Tourists invariably end up in Gamla Stan, with its narrow alleyways, charming medieval buildings, overpriced restaurants and bric-a-brac shops. Well worth a visit to take photos and experience 'Old World charm' but then leave before the wallet comes out.
For high fashion, head to Östermalm with a huge selection of stores like Gucci, Armani, Filippa K... Or hit the art galleries and antique shops that are concentrated in this area. Most people can only window shop here, but it's the perfect location to spend big.
Of course, right around the city center there are even more shops. NK on Hamngatan is a quick walk away and is the city's premier department store. Gallerian, a short walk further on, is a large mall. There's also a Debenhams close by and around Sergels Torg you can find Swedish design at Designtorget, records at Mega, clothes at H&M, and the list goes on.
Covered markets
Östermalmshallen is famous for traditional Swedish food, foreign delicacies, and shellfish. The selection at Hötorgetshallen has more exotic fare, while Söderhallarna is the city´s most modern market.
Of those, Östermalmshallen is my favorite and a good spot for lunch.
What to buy in Stockholm
Designtorget is definitely worth a visit for new Swedish design and unique gifts. Some good value for money to be had. Also, you can find handicrafts and souvenirs at a range of shops on Västerlåsgatan. But mostly, it's better to just enjoy the city.
Eating out
Restaurant prices are high in Stockholm. However, there are a number of very good places to eat. At the very top end you find Operakäarren and it goes downwards from there until you hit a 'korvkiosk' selling hot dogs and burgers on a windy square on Kungsholmen. Fish is a specialty and well worth sampling.
World 66 has a range of recommended Stockholm restaurants with reviews.
Vegetarians should try Örtagården, with good value food for vegetarians and carnivores alike.
I recommend that you take some time out on a coffee house terrace watching the world go by. Roberts Coffee on Drottninggatan is great.
Entertainment
Once covered in darkness (which is very late indeed in summer), Stockholm gets jumping. The hip venue of the moment varies weekly and so do the music gigs. Stockholmtown has current listings of events.
Advertisements:



If you're more interested in theater, art exhibits or dance than clubbing, Stockholmtown also offers an events calendar. You can also pick up the "What's On Stockholm" magazine around the city.
Getting around in Stockholm
While Stockholm is a compact city, and walking is often convenient, there's also excellent public transportation for lazy moments or longer distances. Europe for Visitors has a handy guide to public transportation. If you're going to visit a few museums and travel around more than casually, a Stockholm Card may be a worthwhile investment.
Share your tips
If you know a great experience in Stockholm, please share by leaving a comment below or writing an article for eyeflare.com.
You should follow me on twitter here.