If you're taking in the sights of Seattle, you really should consider hopping on the Seattle Center Monorail for a not-seen-elsewhere view of the Seattle skyline. This futuristic elevated transport system was actually the first commercial monorail system in America, built in 1962 for the Century 21 Exposition, a world's fair held where Seattle Center now stands. The line takes roughly two minutes to run the 1.2 miles from Seattle Center, the arts and entertainment center, to the shopping heaven that is Westlake Center.
You'll feel like you've stepped into a 1960s version of Futurama when you board the Monorail: the line still uses the original Alweg trains, which travel at a top speed of 50 miles an hour, and give you quick, heady glimpses of the urban Seattle landscape at every turn. One highlight: the tracks right through the futuristic building that houses the Experience Music Project and Science Fiction Museum and Hall of Fame, a rather long name for an engaging attraction that you'll also want to check out on your Seattle trip.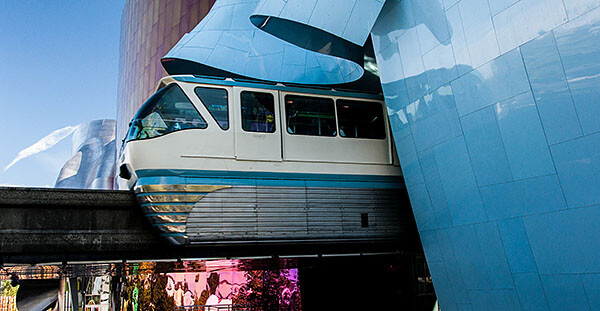 Advertisements:



The Monorail operates every day except Thanksgiving and Christmas, running Monday through Friday from 7:30 a.m. to 11:00 p.m. and Saturday and Sunday from 8:30 a.m. to 11:00 p.m. The two trains of the Monorail depart every ten minutes from the Seattle Center and Westlake Center terminals, with each train able to carry 200 passengers.
Round trip fares are $4.00 for adults, $1.50 for youth aged 5-12, $2.00 for seniors 65 and over, disabled, and persons with Medicare cards. Children four and under ride free.
Photo by Mark Fischer on flickr
You should follow me on twitter here.