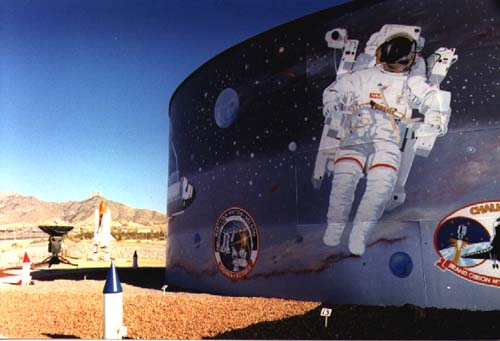 The Space Murals Museum is a terrific place to visit for anyone. From the avid UFO skeptic to a young child it is nearly impossible for anyone to visit the Space Murals museum without being mesmerized by and entertained by the many things that the museum has to offer. New Mexico is a very cool place to visit and the Space Murals Museum in Organ is perhaps one of the best places to start your New Mexico incursion.
The Space Murals Museum is located on Highway 70, ten miles east of Las Cruces, in southern New Mexico. Open all seven days of the week with free admission you can't afford not to visit this spectacular museum. You can start your visit off by appreciating the amazing murals that gave the museum it's namesake or enjoy the beautiful sights that the New Mexican desert contains.
There are many rare artifacts of the cold war and the golden age of the United States' space program throughout the museum. Scale models of the Space Shuttle and the Space Station Freedom are both inside for you to discover.
Anybody, even someone who is not remotely interested in the space program or space exploration, will be able to appreciate and be captivated by the physical manifestation of human skill, bravery, and ingenuity. The Space Murals Museum is a space museum like no other. Countless oddities and rarities line beyond it's doors waiting to be discovered.
You will not quite find the same experience anywhere else. It is a great destination for any vacation.
Address and hours
Advertisements:



Space Murals Museum
12450 Highway 70 East
Las Cruces, New Mexico 88052
Phone: +1 (505) 382-0977
Open Monday through Saturday 9 am to 5 pm.
Photo courtesy of the Space Murals Museum
You should follow me on twitter here.