Located in front of St. Peter's Basilica, Saint Peter's Square is one of Italy's most recognized and historic squares. In addition, it serves as a key meeting place for some of the many tourists who visit Italy every year to tour Vatican City and its attractions. The square was commissioned to be built in 1655 by Pope Alexander VII and is architecturally quite amazing.
The square is decorated with 140 colonnades, each of which is topped with a statue depicting a famous martyr, saint, pope or other well-known figure within the church. The square's designer, Gian Lorenzo Bernini, is praised for his expert use of symmetry in designing Piazza San Pietro.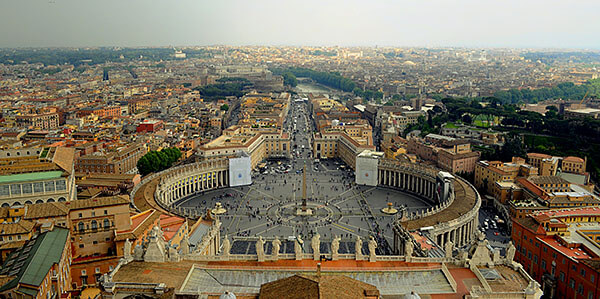 Another hallmark of Saint Peter's Square, or Piazza San Pietro as it is called in Italy, is the obelisk in the center of the square and the 2 fountains on either side of it.
From these fountains, one can get an excellent view of how the colonnades line up, creating a beautiful symmetrical effect. In addition, the papal apartments, which are home to the pope, are visible from Saint Peter's Square. If you are arriving to Saint Peter's Square by metro, it is recommended to take line A to the Ottaviano San Pietro Stop.
St Peter's Square location
The square is located centrally in the Vatican, and you reach it by taking the Rome Metro line A to the Ottaviano San Pietro stop.
Advertisements:



Photo by Storm Crypt (1) and Paval Hadzinski (2) on flickr
You should follow me on twitter here.