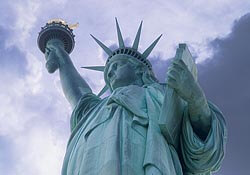 Shut since the Sept. 11 terror attacks in 2001, the crown of America's most known symbol of freedom opens for visitors again today. Don't go chasing for tickets today though, as they were released on 13 June and all were snapped up right away.
National Park Service officials had barred the public from visiting the crown out of concerns that it would be difficult to evacuate in case of an emergency because access is by a narrow 168-step double-helix spiral staircase.
Advertisements:



Addressing the safety concerns, there's been a new PA system added to the statue's crown and visitors will be limited to just 280 per day in groups of 10. Each group gets 20 minutes to climb up, have a look around, and get back down all those steps. That means you'll have to book tickets well in advance or get quite lucky.
However, visiting Ellis Island and the Statue of Liberty should be on your itinerary during a trip to New York City if you have the time. If you want just a look at it, there's a great view of the south Manhattan skyline and the statue from the Staten Island Ferry, which is free to ride.
And you'll have to hurry up, as only 50,000 visitors will be allowed in the next two years, after which the crown will close again. This time to carry out renovations though. When the project is done, about 100,000 visitors a year should be able to get to the crown, officials said.
Here's a video of a tour of the Statue of Liberty including the crown area which was closed at the time:
The Statue of Liberty was given to the United States by France in June of 1885 in recognition of the friendship of the two nation's forged during the American Revolution. France was an important friend and ally to the American colonists in their war for independence from Britain. Lady Liberty was assembled and then dedicated on Oct. 28, 1886.
The official Statue of Liberty website: www.nps.gov/stli/
Book tickets for the statue & crown at: www.statuecruises.com
Photo by Brian Auer
You should follow me on twitter here.