The Sümela Monastery, located in the beautiful country of Turkey is in the major tourist hot spot of Altindere National Park. Located on the edge of a steep cliff, the scenery from the monastery includes the the Altindere Valley in Trabzon Province. The monastery was built back in the year 386, by two priests who were said to have seen a image of the Virgin Mary on a cave wall. The main parts of the beautiful and historic monastery include the Rock Church, several chapels, kitchens, student rooms, a guesthouse, a library, and a sacred spring that is revered by Orthodox Greeks.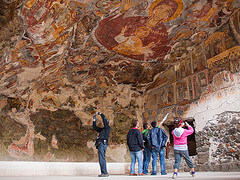 The monastery has fallen into great ruin several times over its long history. Back in the 13th century after gaining prominence during the reign of Alexios III 1349 - 1390 of the Komnenian it has become most of what it is today. Today, the Turkish government is financing a major renovation of the Sümela Monastery and it's also becoming a more popular pilgrimage destination for Russian and Greek Orthodox visitors.
Advertisements:



Photos by james_gordon_losangeles (1) and Evgeni Zotov (2) on flickr
You should follow me on twitter here.