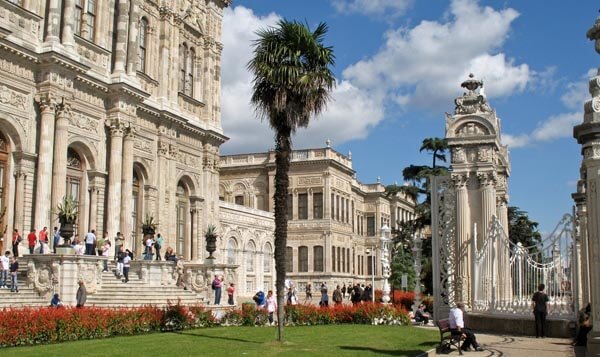 The largest palace in Turkey is a must see if you are visiting Istanbul. Located on the European side of the Istanbul Strait, it is a magnificent example of European influence on Ottoman architecture. It was the administrative center of the Ottoman Empire from 1889-1909. Ordered by the 31st Sultan Abdulmacid I, it took 13 years and 5 million Ottoman mecidiye coins to construct.
This amazing palace was home to 6 Sultan's and the first President of the Republic. The last royal to live in the palace was Caliphe Abdulmecid Efendi before the law passed transferring ownership to the national heritage of the new Turkish Republic. Mustafa Kemal Ataturk, who was the first President of the Republic, used this as a summer residence and spent his last days here. The room and the bed that he died in can be seen in the museum today. Before Dolmabahce Palace, several summer palaces had been built on this spot during the 18th and 19th centuries. Before this, the spot was an Imperial garden which is how the palace got its name. Dolmabahce means "filled garden."
The palace consists largely of gold and crystal. It is estimated that 14 tonnes of gold leaf was used to gild the ceilings. It is home to the world's largest crystal chandelier which was a gift from Queen Victoria. It also has the largest collection of Bohemian and Baccarat crystal chandeliers in the world. Adding to the fantastic amount of crystal already in the palace, they created a staircase shaped in a double horseshoe made of crystal, mahogany, and gold. Also on display in the museum are 150-year old bearskin rugs that were given to the Sultan by the Tsar of Russia. This wonderful preservation of the glory of the Ottoman Empire can be seen by guided tour three days a week from9 a.m. to 3 p.m.
Dolmabahce Palace location and hours
Dolmabahce Palace
Dolmabahçe Cadesi
Istanbul
Open 9 am to 4 pm. Closed Mondays and Thursdays.
Advertisements:



Photo by Manfred Lentz on flickr

You should follow me on twitter here.