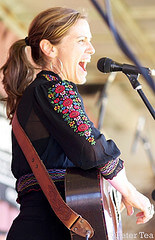 The Tamworth Country Music Festival is held every year in Tamworth, New South Wales, celebrating Australian country music. The festival is scheduled to be held on January 20th through January 29th. This year's festival is especially significant as it will be the 40th anniversary. This special, historical festival's is called "Looking Forward, Looking Back," which is a song by Slim Dusty. Many websites and magazines have claimed that this should be considered as one of the best festival's to attend.
The festival is extremely popular so make sure to get your tickets many months ahead of time. Australian country music fans from all over the world show up every year to support the country music heritage and culture. You will meet many fascinating people and create life-long memories through-out your Tamworth Country Music Festival experience. Your ten days at the Tamworth Country Music Festival are destined to be full of excitement and entertainment.
The festival consists of over two thousand acts that take place in over one hundred different venues. Make sure to attend the acts taking place in the largest venue, the Tamworth Regional Entertainment Centre. If you want your experience to get started early, you should plan to arrive a week early for The Festival countdown. Tons of fans show up early to get a feel for the town and to find the perfect spot for their camp. Many concerts and shows are scheduled during the Festival countdown. During your trip you'll have to check out the gigantic golden guitar that many have claimed to be very impressive when viewed upon in person.
Advertisements:



Other than the fantastic music you'll enjoy, you can also take advantage of the fascinating country music wax museum, hands of fame park, and many street performers. The country music artists selected are the best of the best. You'll get to hear all your favorite artists while also witnessing the rising young artists in todays country music. Make sure to book your tickets as soon as possible before you miss out on this historical festival that has entertained the vast amount of visitors each and every year.
Photo by PeterTea on flickr
You should follow me on twitter here.