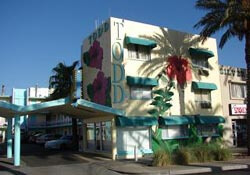 With an outdoor pool, free coffee and tea all day, free WiFi and a common kitchen, Todd's Hostel Las Vegas is a poor man's Ceasar's Palace, a refuge for unpretentious people for whom every dollar counts, and a surprisingly comfortable place.
From the reports of several guests at Todd's Hostel, I don't recommend its private rooms, but its dorm accommodations are reported to be surprisingly proper and clean. Better yet, those gender-separate dorms are only a refreshing $17 per person per night. Best yet is its location right near the Stratosphere Hotel, and directly on the Strip.
You can pick up a phone at the hotel listings board of the airport on arrival (or else call +1 702 477 0022) and order a $7 shuttle to pick you up and deliver you to Todd's, a former motel.
Advertisements:



I don't suggest you pay much attention to the hostel's website, as it's so full of misspellings, sloppy grammar and typos that it will make you shudder. However, those endearing flaws alert you to the fact that the staff is a friendly bunch straight out of Beverly Hillbillies or Grapes of Wrath, they sure haven't taken English 101... Definitely a great find for the budget traveler!
Todd's Hostel contact information
Todd's Hostel Las Vegas
1508 Las Vegas Boulevard
Las Vegas, NV 89104
Phone: +1 304 268 8981
Website: Todd's Hostel
You should follow me on twitter here.