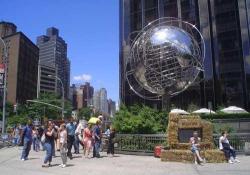 Hostels might be a great choice if you're in New York City and don't have friends you know well enough to crash on their sofa. Hotels here are often going for $300 or more per night even for a basic room on Manhattan, so much of your budget will go to lodging unless you're happy to sleep in a dorm with a few strangers.
Manhattan's Broadway Hostel offersbeds in a dorm room for less than $40 per night. This, for New York City, is an absolute bargain. Especially as the Broadway Hostel is actually quite a hip place. The dorm rooms are well decorated, with reasonably new furniture and beds, and you'll even find hotel luxuries such as soap and shampoo in the shared bathrooms.
It's a great deal for New York, and if you're happy to be laid back and sociable (and don't snore), book the Broadway Hostel for your stay.
Broadway Hotel & Hostel
230 West 101 Street
New York, NY 10025
Advertisements:



Phone: +1 212 865 7710
Website: www.broadwayhotelnyc.com
You should follow me on twitter here.