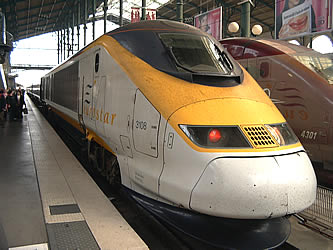 My wife and I recently travelled from London to Paris, France on the Eurostar. We were struck by how much better it was than taking a flight. Here's why you should experience it yourself.
Checking in
I booked the tickets two months ago at Eurostar.com, which was quite straightforward. Tickets are normally sold as e-tickets.
Once at Waterloo or Gare du Nord, the check in is nearly automatic. To get your printed ticket, you use one of the ticket machines by keying in your booking number and inserting the credit card you used to pay with. Out come your tickets. Take these over to the check in gate and feed it through the reader. You're now checked in.
After a quick security check and French immigrations, you can board the train and find your seat.
All in, you've spent about 10 minutes. Compare that to the hour - at least - that you'll spend once you're at the airport.
The train and services
The Eurostar service has been in operation since 1994, making it 13 years old now. Unfortunately, you can tell from the worn train interiors. On the other hand, the trains are comfortable - more so than other long distance trains I've travelled on.
Of course, on the train you can walk around, it's quieter than a plane and you won't be dehydrated when you arrive. Even better, you can look out the window and watch the countryside roll by instead of seeing clouds in every direction.
Food and drink
Food service is limited, with a cafeteria-style bistro coach in the middle, mostly serving microwaved convenience food and sandwiches. Coffee, tea and soft drinks are expensive and instant. Alcoholic drinks are well priced, with a Duvel for just GBP 2.70. With all the shortcomings, it's still better than the airlines' 'one size fits all' approach or outrageous sandwich prices.
Arriving at your destination
The train arrives at Paris' Gare du Nord, only a 10 minute Metro (subway) ride from Champs de Elysees.
Since you've already passed immigrations, you simply walk out on the concourse and into the station. No lines, no hassles and no baggage carousel to wait at. All in, it's much quicker and easier than flying.
Available destinations
Advertisements:



Currently, April 2007, Eurostar goes direct to London, Paris, Brussels (in Belgium), Marne-le-Valle (Disneyland Resort Paris), Lille (in Belgium), Bourg-St-Maurice, Aime-la-Plagne (French ski resort), Moutiers, Avignon and Calais.
Combining a Eurostar ticket with the French TGV or Belgian services, you can connect to a very large number of destinations or even any train station in Europe.
Booking train tickets
You can book Eurostar tickets on most online travel sites and at the Eurostar.com site. Either way, you'll be able to book single, return or packages. As always, booking far in advance means a cheaper ticket.
You should follow me on twitter here.