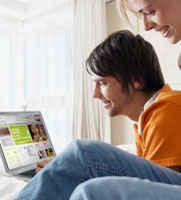 Everyone knows about online check-in but most of us still don't use it. I know I haven't, mostly because I couldn't figure out how to check my bags! Until now that is, and now I'm a great believer in online check-in convenience.
What is online check-in?
Online check-in, or OLCI if you like acronyms, is where you can sit at home and print out your boarding pass from your couch the day before you're flying. All the while picking your seats and watching CSI reruns. And you'll also smugly get to sidestep the massive lines to the check-in desks, feeling like you're flying first class while getting a cheap travel bargain.
What are the benefits of online check-in?
Besides getting your boarding pass up to 24 hours before your flight, it'll save time at the airport:
You can go straight to the quick bag drop and check in your bag in less than five minutes no matter how busy it is
If you carry only cabin luggage, it's even better as you can just breeze through security without a care in the world
Your seat won't get released to another traveler should you be a bit late. Well, this is mostly true, but you're certainly making yourself have a better chance of retaining your seat! Basically, you'll get priority over standby passengers up until the boarding gate closes and the flight pushes off
Even if you forget to bring your boarding pass, you can get a new one printed out at the gate. As you're already checked in, your itinerary is confirmed, which is the basic idea behind check-in in any case
With luck, you might be able to pick a better seat as online check-in becomes available. Great if you're stuck in baby-land (back of the plane at the toilets, where they tend to put mothers with infants) and fear baby-wailing keeping you awake all night
So, what about checking that luggage?
Every airport has a separate line for luggage only check-in. You just need to find it. Once at the front of the line, just scan your boarding pass, drop your bag, and you're off to security.
It really is that easy, and should take no more than 5 minutes.
When online check-in doesn't work...
A problem you'll run into when traveling outside the U.S.A. is that online check-in isn't often available on international routes. Or domestic routes outside the States. They're getting a lot more common though, and European airlines usually offer online check-in for all European routes.
Advertisements:



It's always worth trying to check in via your PC beforehand, but if you can't, remember to show up in time. Mostly that means at least 2 hours before take-off for international flights.
What do you think of online check-in?
Give your opinion in the comments below.
You should follow me on twitter here.