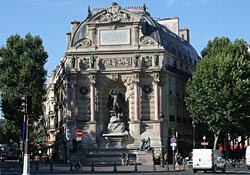 There are thousands of spots where you could arrange to meet in Paris. Here are some of the better, as they're beautiful, small, and easy to find even without a map. This way, you won't end up standing on the other side of the Louvre courtyard or the wrong pillar of the Eiffel Tower, tapping your feet and wondering where your friend has ended up.
Fontaine Saint Michel
The impressive Fontaine Saint-Michel on the place Saint-Michel in the Latin Quarter is near impossible to miss. Here, the dragon slaying Saint Michel overlooks the small square busy with Parisians and tourists alike. A great place to people watch while waiting.
Place Saint-Michel
75005 5ème Arrondissement Paris, Paris
Pont des Arts
Officially known as the Passerelle des Arts, this pedestrian footbridge crossing the Seine is a scenic and popular meeting point between the Louvre and the Institut de France, with an Eiffel Tower postcard photo-op views as well. This is Paris' first iron bridge, built between 1801 and 1804, and reconstructed in 1984.
Quai Malaquais
75006 6ème Arrondissement Paris, Paris
Stairs at the Opera Bastille
The impressive stairs of the modern Opéra Bastille is an easy to find meeting point. While waiting, sit down and watch Paris busy by. If you're headed here on most any day during spring, there's a good chance you'll encounter a strike, demonstration, or other large gathering rather than your friend or date!
Place de la Bastille
75004 Paris, Paris
Fontaine de Médicis
The Médicis Fountain, comfortably inside the lovely Luxembourg Gardens, is a tranquil place to go and read by yourself. Of course, if you're a woman, there are plenty of men who'll assume you're there to meet one of them. This is really one of Paris' most beautiful spots, sheltered by trees, surrounded by urns and pools of water inspired by Marie de Medicis' 17th-century memories of the Boboli Gardens.
2, Rue Auguste Comte
75006 6ème Arrondissement Paris, Paris
Place des Vosges
Advertisements:



The oldest square in Paris used to be the home of Victor Hugo and is still one of the best meeting places in Paris. Just decide to meet at the fountain placed in the middle of this perfectly square square and admire the beautiful period buildings surrounding it. Place des Vosges was built by Henri IV starting in 1605. Much more restful than the surrounding Marais district, it's also good for a sitdown and people watching.
Place des Vosges
75004 Paris, Paris
Place René Cassin
Les Halles, that Parisian eyesore, also holds this pretty little square which is perfect for finding each other. Place René Cassin is shadowed by the Eglise Saint-Eustache and dominated by an enormous statue by Henri de Miller, the Ecoute, which is a thinking man whose huge head is held up by an equally huge hand. It's really a can't-miss landmark.
Place René Cassin
75001 1er Arrondissement Paris, Paris
You should follow me on twitter here.