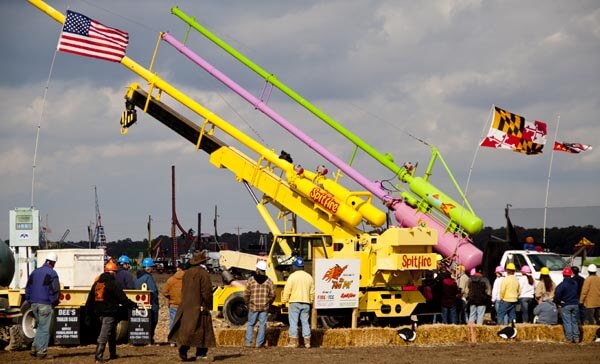 Heads up! You're surrounded by pulleys spinning, cogs clicking, and pumpkins are flying through the air! You must have found yourself at the Annual World Championship Punkin Chunkin in Lower Delaware. More than a hundred teams and tens of thousands of spectators gather outside of Bridgeville in Sussex County, Delaware each year on the weekend following Halloween. Everyone hopes to see pumpkins soaring and massive splattering!
The Punkin Chunkin in Delaware is the largest festival of its kind and has been gaining fame after being broadcast on the Discovery Channel in recent years. The tradition began with a couple of friends who heard that a college physics team had completed an experiment by throwing pumpkins and had declared themselves the best pumpkin chunkers. These good old boys weren't going to back down from hearing such a challenge. They quickly began testing the limits of how far they could throw a pumpkin using various methods and machines. This continued yearly until the location was moved to a larger field, since the pumpkins were beginning to fly so far that they were damaging property at a nearby church!
Advertisements:



Visitors won't run out of entertainment when visiting the World Championship Punkin Chunkin. Three full days allow all the teams who enter to showcase their machine's ability to heave a huge, white pumpkin through the air and compete against others with similarly built machines in each category. There are trebuchets, catapults, and even cannons using pneumatic air technologies. Between the competitions, you and your family can get a closer look at the machines and talk with the creators. These interesting people always have even more interesting stories.
Attractions at the festival are endless. There are stunning fireworks shows set to music on both Friday and Saturday nights. There's a chili cook-off and a baked goods contest followed by an auction of all the baked goods for charity. Tasty treats, carnival rides, and games and raffles will keep anyone in your family smiling. Live music is provided too, with a variety of bands delivering bluegrass, soul, folk, and rock. The music acts are scheduled throughout the festival, so it always seems like there's a stage hopping. Vendors also sell arts, crafts, and gifts for you to keep as souvenirs or give as presents in the upcoming holidays. The entire festival is capped with an awards ceremony on Sunday evening and the crowning of the year's World Champion Punkin Chunkin Team. The festival is definitely full of fun and only happens once a year, so visiting is a must if you're in Lower Delaware at Halloween!
Photo by vpickering on flickr
You should follow me on twitter here.