Located in the heart of Chico, California is the world renowned National Yo-Yo Museum. This small rare gem is found in a little store called Bird in Hand and in my opinion a must see for travelers passing through Chico.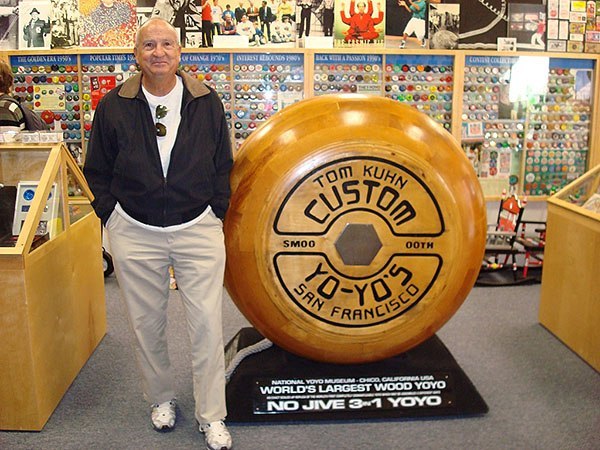 Admission is free and if you come on a Saturday between 12pm and 2pm you can also receive free yo-yo lessons. Come in on the first Saturday in October you'll even find an even bigger treat; for this is the time of the annual National Yo-Yo Contest. There are nine regional contests held in the United States and Chico is one. In fact it is the last one: Chico, California is where the National Championships are held.
In the National Yo-Yo Museum you'll find the world's largest yo-yo weighing in at 256 pounds and a whopping 50 inches in height (pictured above). It is made of wood and is fashioned scaled up replica of Tom Kuhn 3 in 1 no Jive Yo-Yo. It was dubbed the world's largest in the 1982 Guinness Book of World Records.
There are ones larger,but they do not work as a Yo-Yo. In 1980 this yo-yo was picked up by a crane and held over the San Francisco Bridge. It has traveled the globe and has picked the National Yo-Yo Museum in Chico its home. This museum also has other artifacts big and small relating to the yo-yo and yo-yo's dating all the way back to the Jazz Age or better known as the 1920s. Need I say more? My wife and I enjoyed it.
National Yo-Yo Museum address and hours
The National Yo-Yo Museum
320 Broadway St.
Chico, California 95928
The National Yo-Yo Museum is open Monday through Saturday 10 am to 6 pm, Sundays 12 to 5pm. Free admission.
Advertisements:



Photo by alphabunny_photos on flickr
You should follow me on twitter here.