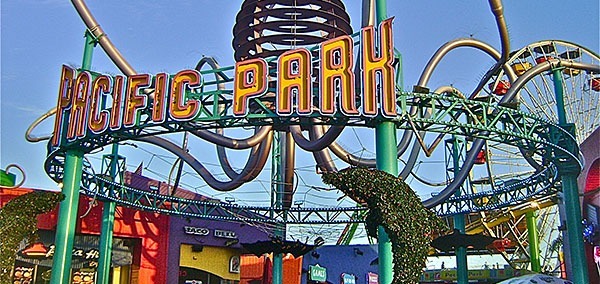 In the first half of the last century the California coast from San Diego to Santa Cruz was dotted with amusement parks filled with glittering rides, the aroma of freshly made cotton candy and dazzling games of chance. Today there are few examples left of these palaces of fun. One of the last remaining examples of these nostalgic wonderlands can be found in beautiful Santa Monica. Pacific Park, located on the Santa Monica Pier is also the last pier amusement park operating in California.
Pacific Park has 12 incredible rides including thw world's only solar powered ferris wheel. The West Coaster is a mild rollercoaster that encircles the pier and offers great views of the surrounding coast. It's a great ride for families. The Pacific Plunge lifts riders 150 feet above the bay before plummeting them to the pier below. There are many rides excellent for children including Inkie's Wave Jumper, Sea Planes, Crazy Submarine and Frog Hopper, a drop tower like the Pacific Plunge, but designed for the little ones.
There's an arcade and numerous games of chance, perfect for those on a date who want to win that special someone something. When you're hungry, the park offers a large food court with places such as Taco Bell, Pizza Hut Express and the Harbor Grill. Outside of the park on the pier, and within walking distance of the pier there are many other options for great food including some sit down restaraunts. Pacific Park is fun during the day, but for a truly magical experience, visit during the evening when thousands of lights bring the park to life.
All in all, Pacific Park is a great place to visit for all ages. Nothing can beat the nostalgia of an old fashioned amusement park on a pier, so don't miss this historical gem.
Pacific Park location and hours
Pacific Park
380 Santa Monica Pier
Santa Monica, CA 90401
Open every day, from morning until late evening. Reduced operation during winter at certain hours.
Advertisements:



Photo by Lynn Kelley Author on flickr
You should follow me on twitter here.