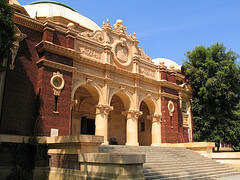 Los Angeles is known for its great weather and the relatively high chance of seeing a celebrity. But there is much more to discover there, such as the Natural History Museum of Los Angeles County. The museum moved to its present location on Exposition Boulevard in 1965 and is the largest natural history museum in the western United States, holding over several tens of millions of specimens and covering the entire history of our planet. There are three floors of permanent exhibits and regularly special exhibits are opened.
The permanent exhibits cover almost any natural history subject one can imagine, from mammals to birds to reptiles to fish to, of course, dinosaurs. But also insects and other invertebrates, as well as minerals and rocks and human ethnology. There is also a beautiful butterfly pavilion, where you find yourself surrounded by amazingly exotic butterflies. In the Discovery Center you can explore all the wonders on this planet by interacting with them (no ‹do not touch' sign here).
The Natural History Museum of Los Angeles County is open seven days a week, from 9:30 am to 5 pm and every day at 2 pm there are guided tours. A great initiative of the museum are their "free Tuesdays", 13 Tuesdays a year when entrance is free for all. But even if you can't make it on one of these free Tuesdays, entrance fees are really a bargain considering all things the museum has to offer. There is plenty of parking space and an Express Café where you can have a good meal, as well as outdoor tables for those interested in a picnic. All in all, this museum practically guarantees a fun day, and you might learn something new along the way.
Natural History Museum of Los Angeles County address and hours
Natural History Museum of Los Angeles County
900 Exposition Boulevard
Los Angeles, CA 90007
Advertisements:



Open daily from 9:30 am to 5 pm.
Photo by retro traveler on flickr
You should follow me on twitter here.