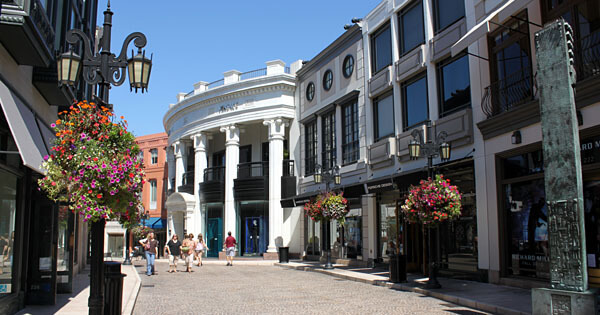 There are few shopping experiences that can compare with the cache of a stroll down famous Rodeo Drive, the Beverly Hills, California thoroughfare that features more designer labels than anywhere outside of a room full of Oscar nominees. But even if you don't have a Rolls Royce waiting to pick you up at the end of your excursion, an afternoon spent wandering this three-block Mecca for the rich and the famous can be entertaining and enjoyable.
Although there has been a road at the Rodeo Drive location since the early 1900s, the shopping district, which takes up roughly three star-studded blocks, became well-known in the 1970s, after Giorgio's, a boutique retail shop, opened. Gradually, other high-end retailers arrived, and today the directory of shops reads like a who's who of international style and fashion. Listing them all would take up too much space, but here's a sampling: Bottega Veneta, Burberry, Chanel, Escada, Dolce and Gabbana, Hugo Boss, Juicy Couture, Versace, Prada, and Yves Saint-Laurent are just a few who have hung their shingle out on the Drive.
Any time is a good time to visit the Rodeo Drive stores. You may indeed see a celebrity or two – yes, they DO shop there – but even if not, you'll find your visit an eye-catching view of how the other half lives. If you happen to be around in September, catch Fashion's Night Out, a night of stars and sales, created to re-invigorate the industry after 9/11. The annual Rodeo Drive Concours d'Elegance, held on or around Father's Day, features a grand display of some of the most elite and elegant automobiles every designed.
Located in the Beverly Hills area of Los Angeles, between Santa Monica Boulevard and Wilshire Boulevard, Rodeo Drive isn't hard to find. You'll find some parking on the adjacent streets. There is, of course, no entry fee to walk the fabled street. What you do with your money once you get there, however, is entirely up to you and your bank manager.
Advertisements:



Photo by prayitno on flickr
You should follow me on twitter here.