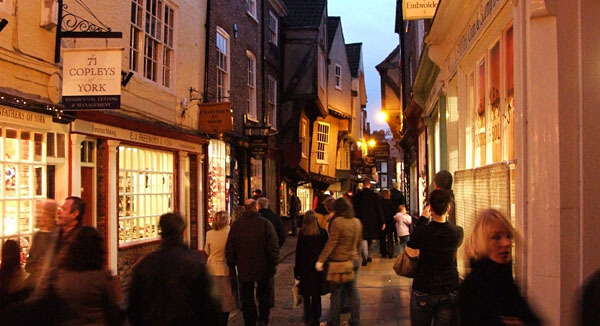 The Shambles, also known as The Great Flesh Shambles, is an old street located in York, England that still holds old world charm, keeping its narrow width and overhanging upper storey's dating as far back as the 14th century.
Up until 1872, the street was known for its large number of butcher shops. The name comes from the word fleshammels, which was the name for the shelf that butchers displayed their meat on. They also butchered and dressed the meat on site, tossing the guts and blood in a rummel down the middle of the street. This is the origin of the phrase "a shambles" meaning a mess. The Shambles also has a shrine to Saint Margaret Clitherow, who hid priests and mass during the reign of Henry VIII. She was sentenced to death and crushed to death under Ouse Bridge for her crimes. She was canonized on October 25, 1970.
Advertisements:



Today, the butchers and the livestock are gone, along with the mess but the meat hooks and shelves. It's lined with eateries and souvenir shops for all the tourists attracted to this amazing site. You can also visit the most haunted pub in the world, "The Golden Fleece," where you may see the people that used to walk these streets, as well.
Photo by Pictr One X on flickr
You should follow me on twitter here.