Introduction to York (England)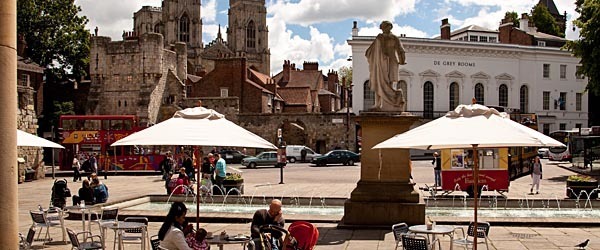 York, in the north of England, is a city with a long history – going back to the Romans and later the Vikings who named it Yorvik. Traces of ancient cultures still abound in the city and are worth visiting for those with an interest in history – but modern York is a vibrant place which prides itself on its cultural aspects. There are thriving café and entertainment scenes, museums, festivals and talented buskers taking theatrics to the cobbled streets of the old city.
Roman York (Eboracum) is well represented in today's York – the two main streets, Petergate and Stonegate follow the routes established by the Romans. In fact, modern York forms a thin layer over old Roman York, a layer which is regularly pierced whenever digging is necessary. Highlights are the remnants of a bath house now located in the grounds of a pub, the Multangular and Anglian Towers, Bootham Bar and wall fragments.
Subsequent waves of Celtic, Briton and Viking inhabitants left little surviving sign of their occupation of the site, although the Jorvik Viking Centre is built on the site of an archaeological dig which revealed features of the Viking city. Artifacts from the dig are on display.
No visit to York would be complete without a trip to the amazing, magnificent Minster. The York Minster Revealed Project, due for completion in 2016 will enhance the visitor experience of this internationally famous landmark. It is the biggest restoration/conservation project in the UK.
Once you've seen the sights, you may be ready for some serious shopping. York has a large market operating daily, a full range of high street retailers, antique shops, a designer outlet, and various small, interesting shops located in the narrow streets. There is something for all tastes and budgets. Take a bus or walking tour (the ghost tours are fun), stroll the wall and the public gardens, go to a concert, dine in the fine restaurants – York is a jewel with plenty to do and see.
Photo by alh1 on flickr