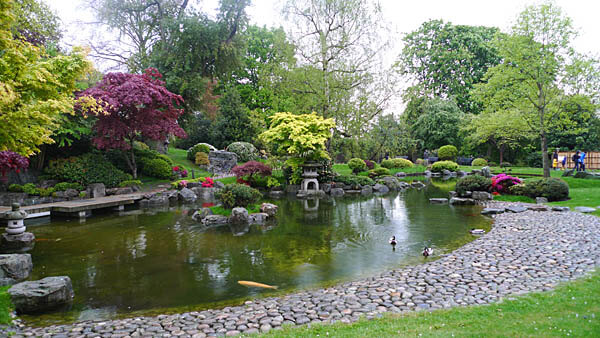 Holland Park, in west Central London, England is a district and public park in the Kensington and Chelsea. It is known to be affluent and a very fashionable area. Holland Park is known for its beautiful Victorian townhouses, and high class shopping and restaurant. The other thing Holland Park is noted for is the Kyoto Gardens.
The formal garden and a large area of woodland came into public ownership after the Holland House, originally known as Cope Castle, was bombed during WW II. The Kyoto Garden has a medium sized pond and waterfall garden which was opened in 1991 to celebrate the Japanese Festival. It was refurbished in 2001.
Advertisements:



The garden is built in the style of a Japanese "strolling garden". You will find beautiful flowers among the lush green grass area. Old trees and some flowering trees that add a touch of pink to the gardens. There is Japanese style statuary scattered around the garden as well. Cobble stone walkways lead from the flowers to ponds with their fish swimming away.
Kyoto Gardens has a youth hostel in the middle of it, a famous Orangery, a cricket pitch as well as tennis courts for your enjoyment. Kyoto Japanese Gardens in Holland Park is well worth your time to visit.
The Kyoto Gardens location
Kyoto Gardens
100 Holland Park Avenue
Holland Park
London
W11 4UA
Photo by Ewan-M on flickr
You should follow me on twitter here.