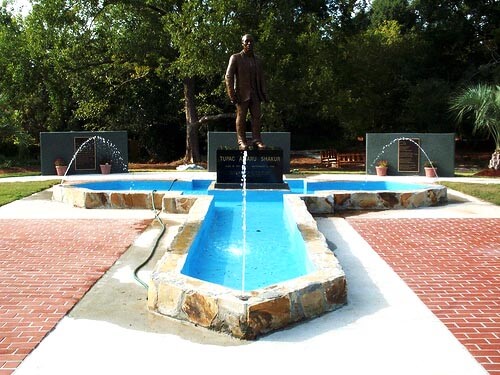 The Tupac Shakur Statue is in the Peace Garden of the Tupac Amaru Shakur Center for the Arts in Stone Mountain, GA. One interesting thing about the statue is that the artist created a rendition of Tupac Shakur as the artist pictured him looking around the age of 65. This is definitely not the way most visitors expect Tupac to be portrayed! The viewers' surprise is most often positive.
The statue is striking; the artist is obviously very skilled, Tupac is dressed in a sport coat, slacks, and is posing reverently in a pool shaped like a cross. The statue of Tupak Shakur isn't the only thing to see; the center has six acres of trails and a beautiful garden. One interesting fact is that the Tupac Amaru Shakur Center for the Arts is run by Tupac's mother; his personality seems to live here. Any fan will learn something new have an deepened appreciation for Shakur's music after seeing the garden.
If you are coming from afar we can assure that that Stone Mountain, GA will have pleasing accommodations. Stone Mountain is located just east of Atlanta and offers comfortable lodgings, wonderful restaurants, and plenty for the whole family to do. Not even four miles from the statue of Tupak Shakur you will find Stone Mountain Park. Stone Mountain Park sits on 3,200 acres and offers attractions for children including a laser show, a Swiss cable car ride through the mountains, and a five-mile train ride around the mountain in an authentic locomotive. I really hope you decide on a trip to Stone Mountain; the memory will last you a lifetime, and if you think that the trip is too far just to see the statue of Tupac please consider Stone Mountain Park, the fabulous restaurants (especially seafood)! Should you you decide to visit the Peace Garden of the Tupac Amaru Shakur Center for the Arts will certainly remain in your mind (and also you heart).
Tupac Shakur Statue location and hours
Tupac Amaru Shakur Center for the Arts
5616 Memorial Drive
Stone Mountain, GA 30083
Monday to Friday 10 am to 5 pm, Saturdays 12 pm to 6 pm. Closed Sundays.
Advertisements:



The statue itself is located in the Peace Garden.
You should follow me on twitter here.