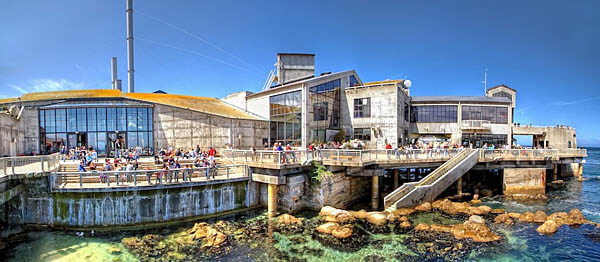 If you have never been to an aquarium, then you are missing out on a glorious, vividly-colored world of marine creatures both delicate and fierce and the habitats in which they live. And whether you're a first-timer or a veteran aquarium-hound, the Monterey Bay Aquarium will delight your senses and leave you with a greater understanding of a mysterious world that is, for many of us, right outside our doors.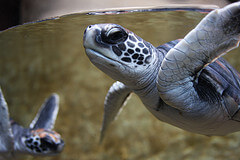 With more than 550 different species on display, the Aquarium is situated on California's beautiful Monterey Bay, home of wild dolphins, gray whales, blue whales, and sea lions, which can sometimes be seen from the deck. The Aquarium itself features both rotating exhibits and some spectacular permanent exhibits, such as the kelp forest–an underwater forest that is 28 feet tall, and is home to everything from the 500 pound giant sea bass (which likes to have its chin scratched by divers) to swirling schools of Pacific sardines to the elegantly languid leopard sharks that swim smoothly past them.
Advertisements: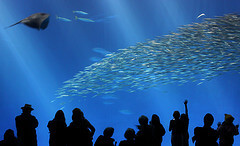 The Aquarium's recently renovated Open Sea exhibit, which opens on July2, is also a winner, featuring several kinds of sharks – including the unearthly hammerhead – as well as giant green sea turtles and the ever-beguiling puffin birds. Many exhibits feature daily events, like the sea otter feeding and training sessions, which provide an easy-to-take learning component wrapped around a good dose (at least in the case of the sea otters!) of cuteness overload! Or, if you're in the area for a while, check out their Aquarium Adventures series, with special tours, sailing and diving opportunities, and even summer sleepovers for the kids.
You'll find the Monterey Bay Aquarium a feast for the eyes for young and old, and well worth the cost of entry!
Monterey Bay Aquarium address and hours
Monterey Bay Aquarium
886 Cannery Row
Monterey, CA 93940
The Monterey Bay Aquarium is located in Monterey at the west end of historic Cannery Row, just minutes from Carmel and Pebble Beach. Monterey is approximately 125 miles (208 km) south of San Francisco and 360 miles (600 km) north of Los Angeles.
The Aquarium is open every day but Christmas from 10 a.m. to 6 p.m. (5 p.m. in winter). Tickets can be purchased online or at the door, at a cost of $29.95 for adults, $19.95 for children aged three through 12, with children under three free. There are discounts for students ($27.95) and seniors ($27.95). You'll find the usual complement of gift shops and dining options available as well.
Photos by Christopher Chan, goldstardeputy, and Mele☺ on flickr
You should follow me on twitter here.