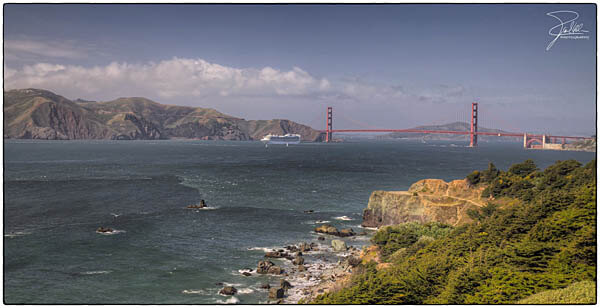 When you visit San Francisco, a trip to the Golden Gate National Recreation Area (GGNRA) is all but mandatory. The GGNRA, not to be confused with Golden Gate Park (which you should also visit!) is big enough to have a little bit of something for everyone. If you like getting out for a good nature hike and some great scenery, want to know a little bit about the history of the area, or take in some art and culture, you'll find it there.
Advertisements:



If you like hiking, Muir Woods is stunning and has trails to accommodate different levels of ability. If you're more of a fan of nature in theory than practice, there are paved trails and a cafe. If you love hiking, there are some more challenging trails. It's nice and cool in the giant redwoods' shade, so bring a light jacket. There are special events year-round and sometimes ranger-led hikes, so it's worth it to check out their calendar before you plan your trip. Nearby is Stinson Beach, a great picnic spot. They're close enough that you could visit both in the same day! Muir Woods is best early in the day before it becomes too crowded, so plan accordingly. If your schedule isn't too full, try to get in a trip to the Marine Mammal Center in the Marin Headlands. They rehabilitate animals that might not otherwise survive. Take a tour and learn a little about the wildlife of the area, it's worth the trip.
There are plenty of historical places within the Golden Gate National Recreation Area. A stop at Alcatraz Island, home to the historic prison shut down in 1963 and the west coast's oldest lighthouse, is required. If you were planning a trip to San Francisco, you're probably already planning to go. If your trip is in the summer, you want to book this ahead of time. One way to get out to the island is a ferry from Pier 33, so while you're there, stop by Fisherman's Wharf. The Hyde Street Pier, part of Fisherman's Wharf, often has historical ships you can explore.
Outside the city is the Sutro district, where you can see the Sutro Baths. In 1896 these were opened to the public as the "World's Largest Indoor Swimming Establishment." They were closed and eventually destroyed in a fire in 1966, but the modern ruins are worth seeing. They're beautiful and a little haunting. Since you're there, you should visit the Cliff House, a historic place that now contains a pair of restaurants, and Seal Rocks, a set of gorgeous rock formations that you'll want to take lots of pictures of.
If military history is more your speed, you'll want to check out Fort Point. It has roots as far back as 1779 when Spain occupied the area. The modern American fort dates to 1853 and used to be the only one of its kind on the west coast. If you're looking for more modern history, SF-88 in the Marin headlands is a former Cold War missile launch site. Visiting days are limited though, so plan ahead.
There's plenty of arts and culture to be found in San Francisco, and within the GGNRA there are at least a couple places to check out. The Headlands Center for the Arts has lectures and an ever-changing gallery. It's close enough to SF-88 that you can make a day of it too!
The Golden Gate National Recreation Area covers a massive amount of space. This guide only scratches the surface of the amazing activities there. Have fun, be safe, and enjoy your trip!
Golden Gate National Recreation Area directions and hours
Golden Gate NRA can be reached by Highways 1, 101 and 280 from the north and south San Francisco Bay Area, and by Highway 880 from the East Bay.
There are various bus lines that run to and through the park. To get the best information on transit to the park areas you are interested in visiting, refer to the public transit information site: www.511.org
All attractions in the Recreation Area are open year round. Hours vary by venue.
Photo by Frank Kehren on flickr
You should follow me on twitter here.