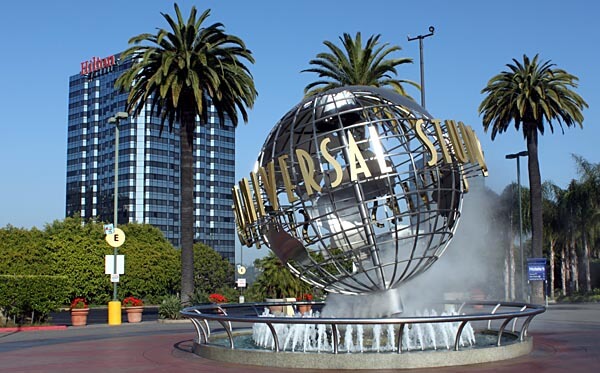 Universal Studios in Hollywood has brought us many of our favorite movies and TV shows but it is not only a movie and TV studio, it is a theme park and the unincorporated Universal City community of Los Angeles County, California. It is the oldest and the most famous movie studio in Hollywood. It is officially marketed as "the Entertainment capital of LA."
It is the first and foremost a theme park but it has a Hollywood stamp of approval that lends itself to its credibility. Tours have been available for years and still continue today. Years ago if you toured it wasn't a theme park just the movie studio and as you entered the main gate you could sit in Jack Benny's car and have your photo taken. Universal Studios has since evolved to a theme park along with being a movie and TV studio. Woody Woodpecker is the mascot for the Universal Studios today.
Touring Universal, you go through the "backlots" where you will see famous streets from movie and TV shows. The guide will tell you they are facades, meaning just the front of the house or building. The inside scenes were "shot" inside of a studio.
After a tour of studio head to the theme park where costumed characters will meet. Friends like Beetlejuice, Dora the Explorer, and even Lucy Ricardo.
Universal Studios is said to be the "granddaddy of movie theme parks". It opened in 1964 as a quaint backstage tram tour which allowed the guest to see Lana Turner's dressing room.
In the theme park ride abound including Terminator 2 in 3D, Shrek, Revenge of the Mummy and The Simpsons Ride.
When you visit watch you're surrounding because you just might see Russell Crowe as a customer at the same restaurant you are dining at. Just ask for an autograph!
Universal Studios Hollywood address and hours
Universal Studios Hollywood
100 Universal City Plaza
Universal City, CA 91608
Open daily 9am to 10pm
Advertisements:



Photo by prayitno on flickr
You should follow me on twitter here.