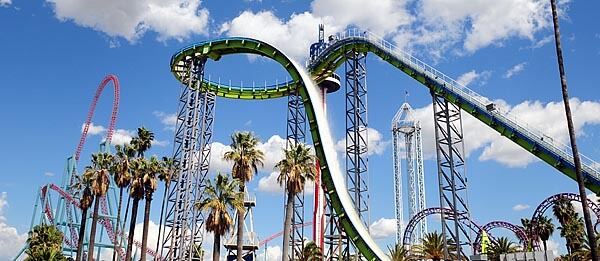 Knott's Berry Farm is definitely less well-known than other amusement parks in the Los Angeles area but its tag line is "America's First Theme Park" and it is definitely well-worth a visit. For one, it is considerably cheaper for kids (just $19.99 for kids 11 and under). It has a good mix of family rides and thrill rides plus characters from the Peanuts comic strip.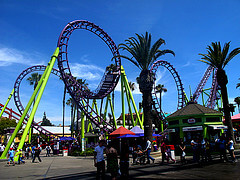 There are seven roller coasters ranging from the kid-friendly Timberline Twister in the Camp Snoopy area to the Silver Bullet, a suspended roller coaster offering aggressive thrills. There are also other thrill rides similar to those you might find at the State Fair and some water rides where you are sure to get wet. There are also shows, souvenir shops and restaurants to keep you busy. Knott's Berry Farm now also has three "Soak City" water parks in California but admission to these parks is separate from the main amusement park.
Address and hours
Advertisements:



Knott's Berry Farm
8039 Beach Boulevard
Buena Park CA, 90620
Open hours vary, but are mostly between 10am and 6pm every day of the week.
Photos by kerjsi and Profound Introvert on flickr
You should follow me on twitter here.