Introduction to Moscow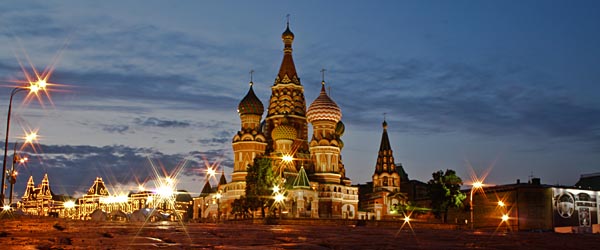 The more open the world is coming, the easier it is to travel to destinations that weren't always open to visitors, including the vast Russian capital of Moscow. The most important detail of your trip should include a proper visa and a phrase book as if you aren't used to Cyrillic languages, you may need a bit of help! The city of Moscow offers plenty to do, amazing sights and quite simply Moscow is enormous with many adventurous day trips, shopping experiences and tours.
You will absolutely want to visit the famous Kremlin, located in the Red Square. Rich with history and stories, this site is absolutely amazing. If you are a history buff you will not be disappointed in learning about the exciting and often tragic history of the Kremlin. The Red Square in and of itself is drenched in history both political and religious. Within the Red Square, you will witness the monumental Tomb of Lenin within the Mausoleum. Constructed in 1930, it is a building and monument you will never forget.
The cathedrals of Moscow are breathtaking. Even if you are not interested in the religion, the architecture can not be ignored! Visiting St. Basil's Cathedral and the Cathedral of Christ the Savior will amaze you with beauty and fantastic domes and again, the fantastic history, stories and legends attached to each building.
A trip to the Bolshoi Theater and visiting various Russian restaurants will mark your visit with highlights you will forever remember. Try some traditional Russian cuisine in Moscow or sit down to gourmet and exotic dining. You can arrange tours and reservations with multilingual tour guides or explore this city on your own. Remember this is a metropolis and like any big city be safe in your travels. Visiting Moscow is an amazing trip, you will find endless attractions and visually stunning surroundings.
Photo by geezaweezer on flickr