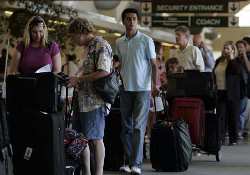 Navigating airports and the duty free shopping is an artform. It's all to easy to leave frazzled, in debt, and even possibly without your luggage unless you're well prepared. Here are some tips from our frequent fliers:
Check your airport's code
It's easy for luggage-destination tags to get mixed up at a curbside check-in. Learn the three-letter airport code for your destination and make sure your bags are properly labels the bag properly. The codes aren't always intuitive (for example, New Orleans's Louis Armstrong Airport is MSY), so check the list at www.world-airport-codes.com. This really helps if the city you're going to has more than one airport.
Inquire about your waiting area options
Waiting at the airport can be made much more comfortable by finding out some inside knowledge. For example, if you're bored with the same-old same-old food choices in Austin, head for the Salt Lick restaurant, which serves up some of the best BBQ in the state. At Boston's Logan Airport, there's a play area in Terminal C where you can get your kids to burn off some energy before boarding your flight.
And at the security checkpoints, if the lines are long, ask to see if the security agents can open up more lines. They often can during peak times.
Watch that duty free shopping
Just because an item is duty free doesn't mean it's cheap. If you're really wanting those bottles of whisky or perfume, check the prices online beforehand or even at your local department store. It can often be cheaper that way.
Advertisements:



There's also the restrictive rules for liquids to take into consideration. With only 3 ounces allowed in your carry-on bag, if you're transferring to another flight, you'll have to put that into your checked luggage, which isn't always possible. And if so, kiss that bottle goodbye because it'll stay with the TSA at security.
Get a lounge day pass
Sure, it'll cost you about $50, but you can always buy a day pass to the airline's premium lounge. Here you'll find drinks, snacks, comfortable chairs, and no lines in the restrooms. Even better, there'll be dedicated ticket agents and service staff on hand to help you with any travel problems you may encounter.
You should follow me on twitter here.