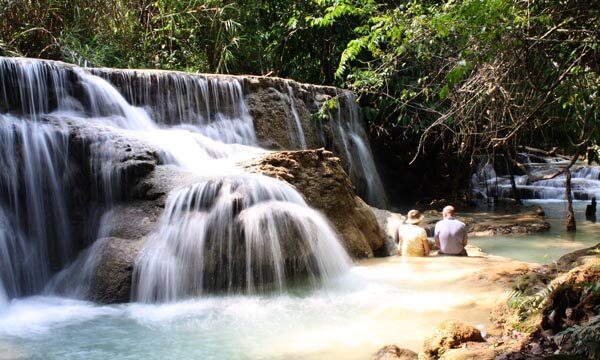 When you visit the Kuang Si Waterfall in Laos, you are in for a real treat – however, there are a few things you need to know to get the most out of your visit. The waterfalls are outside the city of Luang Prabang (which is a great base to discover the surrounding areas) and it's a drive of 29km to get there. How you get there, is up to you: if you have your own transport, you can drive here (you'll have to pay a small parking fee) but you can also hire one of the many different tours that get you there (they range from private transport to group transport).
Once you arrive there, you will have to pay a small fee to get access to the area around the waterfalls but the money is well worth it. There are well-maintained paths and the money the locals get from visitors is used to keep them that way. The falls themselves are the main attraction, however, you can also see bears and tigers in enclosures close to the entry of the area. The falls are amazingly beautiful and are visited by many people. The waterfalls make their way downwards in a few tiers and you can swim in the pools that are created through the power of the water. You'll find that the lower areas of the waterfalls are usually very busy, but if you feel up to it and like hiking, you could go further up into areas that are less frequented by visitors (because tourists are usually quite lazy).
There are many trails around the waterfalls and most of them are well-maintained. It's easy to spend a few hours on the trails. It's a paradise for nature lovers because it's the perfect combination of sensual experiences: you hear and smell the water while your eyes feast on the beauty of the surroundings.
One thing you need to be aware of and respect: A few of the pools on the waterfall are sacred and you are not allowed to bathe or swim in them. Please respect the local customs and do not break those rules. It's important that visitors pay respect to the locals so that places like this will stay accessible to visitors.
Advertisements:



Photo by dms_303 on flickr
You should follow me on twitter here.