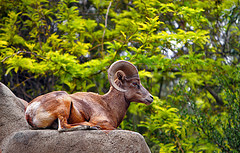 The Botanical Gardens at the Los Angeles Zoo, located in the Los Feliz neighborhood of L.A., are sure to dazzle and amaze kids and families alike with their impressive assortment of plants and flowers. The gardens offer a beautiful complement to the zoo atmosphere, and are incorporated into the animal habitats according to the animals' indigenous habitat.
The gardens were officially recognized in 2003 and continue to be updated, with new and rare breeds frequently being added. Once inside you will see several hundred plant species and over 7,000 individual plants. The zoo takes special care to ensure that when you are observing an animal from Asia indigenous flora and fauna will surround it. Likewise, the African Elephant will be roaming through plants and succulents native to Africa. Many of these plants are also food sources to the animals in the wild. The zoo matches plants and animals in this way to make the visitor's experience as authentic as possible.
The plants recognized as part of the botanical garden are conveniently labeled and include a description of each species. By staying attentive, a visitor is sure to see interesting flowers and plants that they have never seen before, as many plants are only at the zoo for weeks or months at a time. The plants come from all over the world, and the zoo often receives rescued plants that have been illegally brought into the United States by smugglers. The zoo's important work ensures that these plants are not destroyed, while at the same time offering an exciting viewing opportunity for visitors.
Botanical Gardens at the Los Angeles Zoo address and hours
The Los Angeles Zoo and Botanical Gardens is at the northeast corner of Griffith Park at the junction of the I-5 (Golden State) and the 134 (Ventura) freeways.
If you're looking for another way to get to the L.A. Zoo, hop on board Metro's number 96 bus.
Regular hours are 10am to 5pm. The Zoo and Gardens is open every day of the year except December 25.
Rates and fees are subject to change at anytime:
Adults (ages 13 - up)

$13

Seniors (age 62 and up)




Advertisements:




$10

Children (ages 2 to 12)

$8

Children (under 2)

Free

Parking

Free
Photo by P.J.M. *extremely slow on flickr :( sorry* on flickr
You should follow me on twitter here.