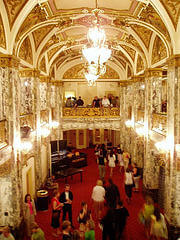 If you are ever in Chicago, you must go to the Cadillac Palace Theatre for a great show, but also a nice piece of history. Opening in 1926, it actually cost twelve million, an incredible sum in those days. The place is full of elegance. The Theatre is now run by Broadway of Chicago, meaning that you can see a bevy of Broadway plays there.
My wife and I traveled there last year and saw the premiere show of Dirty Dancing. What a show it was, it was an authentic Broadway play. My wife and I are avid Broadway fans and go see a play every month in New York City. When we walked into the huge auditorium, we were amazed at the infinite details that were put into crafting the masterpiece that is the Theatre.
Advertisements:



There had to be over two thousand seats there, and by show time, every single one was filled. It was a great experience and we have already booked a trip to head back there in February of next year, but we are still deciding what show to see. The Theatre itself is relatively close to the O'Hare and was only a short taxi ride away. You will love this Theatre and will be amazed at how ornate it is.
Photo credit: Michael Lehet @ flickr
You should follow me on twitter here.