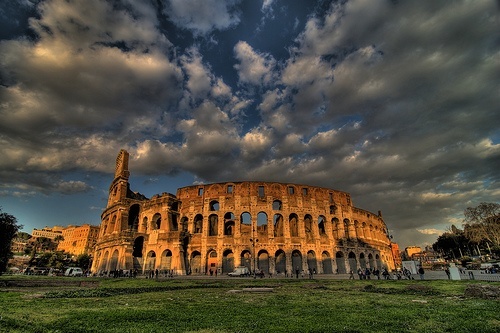 A must-see when you're in Rome is the Colosseum. It's right near the Forum, so you can get a real feel for ancient Rome by staying right in this area. The Colosseum was originally called the Flavian Ampitheater and was build around the year 70 CE.
Yes, it was used for those gory gladiator battles in which often unwilling slaves were thrust into the ring with others on the odd chance that their freedom would be won. And, yes, it was used by the powers that be to make those who professed Christian allegiance face wild animals. But throughout the years it was also used by private families for entertainments and shows.
The Colosseum is enormous and much of it is in ruins today. The huge round building has been eaten away by weather over the last 2,000 years, and people have also done damage by stealing pieces of stone from it. You can still enter for about 8 Euros (seniors and young people 16 and under are free because the entrance fees are subsidized by the Italian government), though many parts of the Colosseum are restricted.
Advertisements:



There are many layers to the place, and you can see where the subterrenean passageways were as well as the tiers for the audience that reached to the sky. At one time it held 50,000 spectators though now shows and even certain religious events are only held outside the walls.
You should follow me on twitter here.