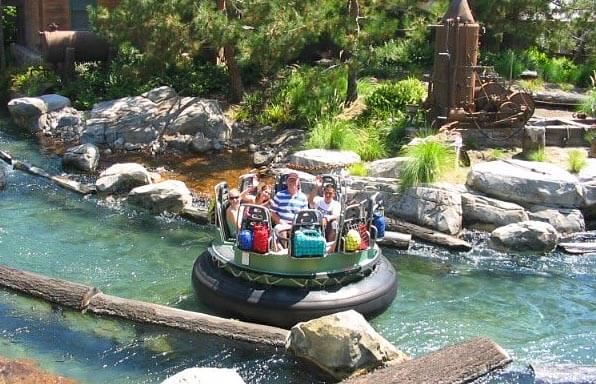 Disney's California Adventure, located in a former parking lot adjacent to Disneyland park, is Disney's attempt to turn Disneyland in Anaheim into a multi-park destination, more in line with Walt Disney World in Florida. Over the years, Disney's California Adventure has received a lot of bad press which is undeserved due to the strength of its attractions.
Whereas one could go to Disneyland, never ride a major attraction, and still have a great time, the reason to go to 'DCA' is to ride. Without spoiling the details of the attraction, here are some highlights: 'Grizzly River Run', a whitewater rafting ride, is the only one that I have ever ridden that actually captures the feel of being on a real river – just be prepared to get soaked, not wet, soaked. 'Toy Story Mania' is the ultimate interactive attraction – ride and play at the same time. And 'Soarin Over California' is a thrill ride which will blow away a jaded teenager while also being something that their 90 year old great grandparent can ride. And enjoy. Really. Those are just a few of the major attractions at DCA, and the park is filled out with a number of smaller attractions which are also quite enjoyable.
Advertisements:



Disney is in the process of expanding the park to better incorporate the Pixar properties – one expansion coming soon is 'Cars Land.' So if you visit now, be prepared to visit again soon.
When it opened, DCA was considered a 'half-day' park. In its current iteration, it is a very full day, and is best combined with the adjacent Disneyland park on a multi-day ticket. You will want at least 3 days to see both parks.
Disney's California Adventure location
Disney's California Adventure
1313 S. Disneyland Drive
Anaheim, CA 92802
Photo by PrincessAshley on flickr
You should follow me on twitter here.