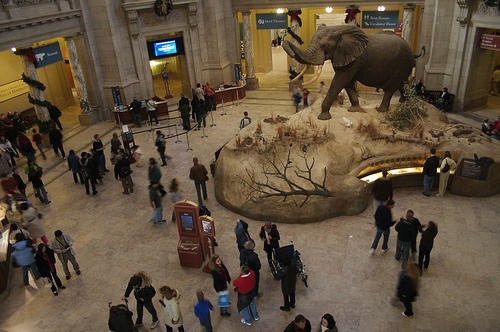 There is a rewarding experience awaiting visitors and tourists, young and old, at the Smithsonian National Museum of Natural History. Admission is free and all of the programs within the museum are as well. Displays from gigantic dinosaurs to the legendary cursed Hope Diamond await the opportunity to be discovered in our nation's capital Washington D.C.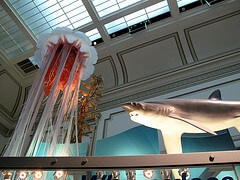 Along with many insects pinned to be observed, plant life that can be studied and explored, one of the main exhibits is the legendary Hope Diamond. The diamond that was once part of the French crown jewels was donated in 1958 by Harry Winston. This stunning diamond has been the subject of many robberies and is claimed to be cursed. This is definitely an exhibit that shouldn't be missed.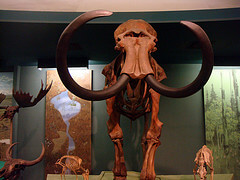 Another big exhibition is the Sant Ocean Hall. This hall includes a giant tank with a whale. What a masterpiece! Since the ocean is essential to all living creatures, this exhibit will expand your knowledge about weather, food, and observation of underwater life systems that will entertain and educate young and young at heart alike.
The Smithsonian has virtual exhibits throughout the museum that allow patrons to interact with exhibits. Walking through, you will see certain marked spots that enable you to get close and interact. Self guided tours are available in the case of wanting to capture every virtual experience. This will allow you to be able to tour at your own pace and enjoy everything that the museum has to offer.
Advertisements: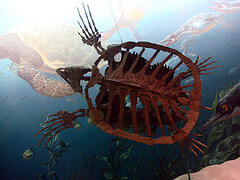 A big attraction for the ultimate museum experience is the IMAX theater and Einstein Planetarium.
The IMAX 3D theater is a wonderfully realistic movie setting. The sights and sound of a giant screen and state of the art sound system will thrill you beyond belief. From Space features to Animal life the IMAX is definitely an attraction you will not want to miss.
The Einstein Planetarium is an extreme trip across the universe. It's high tech sound system and technological advanced images will offer a unique experience for the space enthusiast in your family.
With so many great experiences to offer the Smithsonian National Museum of Natural History is an adventure for the whole family. It is an attraction that is well worth planning to see when you visit Washington, D.C. The museum is located at 10th St. & Constitution Ave. NW, in Washington, D.C. 20560.
Photos by Luckywhitegirl (1), Victoria Belanger (2), and Kansas Sebastian (3, 4), on flickr
You should follow me on twitter here.