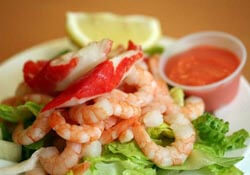 Visitors to London usually think of fish and chips, lackluster meals at Wetherspoons, or hot dogs with onions when cheap food comes up in discussions. But even those cheap-ish options add up very quickly to eat up (see what I did there...?) your travel budget. There are much better options around, and here are my favorites:
Hot, cheap, and filling food
Advertisements:



Warm and crusty pasties are a budget travelers dream food. These meat, cheese, or vegetable (or indeed all of these) filled pockets of pastry bread are both cheap and filling. The West Cornwall Pasty Company is the biggest chain around, and you'll find one near every major landmark in London. Another option is the Greggs chain of bakeries, with plenty of locations around town.
If you're not averse to some greasy filling, a doner kebab (especially the lamb ones) fit the ticket for post-bar grub or fuel for a long day sightseeing. Not all of them are dripping in fat either. And if the place you're buying it from is a Turkish charcoal grill, there will be other options too, such as falafels, stews, and my favorite, the shish kebab. All of these will come with salad if you're hankering for something green. Some of the best Turkish food places are along Green Lanes, but Time Out has a great list of many more.
The traditional London cafe, such as these classic London cafes, are also good options with a filling meal most often for less than £5. A bit greasy and salty, I admit, but just the ticket after a night out when you're in need of more travel fuel.
Healthier options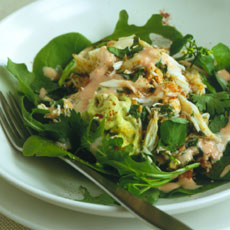 Fast food is usually greasy, salty, stored for quite some time and a bit unappetizing. But in London we've got some great options that are just exactly the opposite.
EAT serves healthy salads, sandwiches, soups, and other meals that are as good for you as for your wallet. Even the desserts are pretty decent here. In a very similar vein, Pret A Manger has a wide range of options made daily.
Take away meals
Let's not forget the standards of Chinese and Indian take aways. Usually really good value if you're looking for a filling and tasty meal, these are dotted around every single neighborhood in London. They get a lot cheaper outside of Zone 1 (Central London) as well, so don't feel afraid to venture outwards.
Peking Palace in Highgate even caters for the vegans among you, and if you're looking for some vegetarian Indian food, try the Indian Vegetarian Bhelpori House on Islington's Chapel Market Street. The tasty buffets here are only £3.50 plus whatever you'd like to drink (and they serve beer). Check the site Tamarind and Thyme for more budget eating ideas in London.
Supermarket food
The better supermarkets in London, especially Waitrose and Marks & Spencer, have good selections of ready made salads, sandwiches, and other healthy meals besides the obvious microwave junk. And if it's summer, it's hard to beat a rotisserie chicken, a big salad from the mix-your-own salad bar, a bottle of white wine, and some fresh bread. Dinner for two for about £12.
For more sandwiches, and especially around lunchtime, there are hundreds of sandwich shops everywhere in London. Office workers here live on them (rare is the one getting a hot meal for lunch), and they're great value. Grab a coffee while you're getting your chicken tikka or roast beef sandwich and you're good to to. If you're needing a sandwich, hot or cold, 24 hours a day, the Don Quixote in Holborn is a great and cheap option.
You should follow me on twitter here.