El Yunque (pronounced el yoon-kay) is a fantastic side trip, just a forty five minute drive from San Juan, Puerto Rico. Most tourists come to Puerto Rico just to head to the beach, which is a huge mistake! El Yunque rain forest is ripe with hiking and sight-seeing opportunities. Most organized attractions (for example tours, hiking expeditions, etc...) depart from the north side of the mountain. You can expect to see waterfalls and be surrounded by the lush green forest.
For the more adventurous traveler, try visiting the south side of the rain forest. It is about 30 minutes longer drive, but there are far fewer tourists. Also, a hike (or a drive) up the south side will give you views of neighboring islands of Vieques and Culebra.
I have actually traveled to Puerto Rico's gorgeous El Yunque rain forest. For travelers looking for a unique experience (not to mention cheap), I would recommend camping, or renting a cabin. While I was there I stayed in Phillips Family Budget cabins for $40 a night. The hike up to your one room cabin takes you through a fruit farm where you can sample exotic fruits like rambutans, star fruit, and lychees. Although the cabin doesn't have electricity, candles made for very romantic lighting and it will always be remembered as the trip of a lifetime. Phillip himself offers guided rain forest for $15 per person.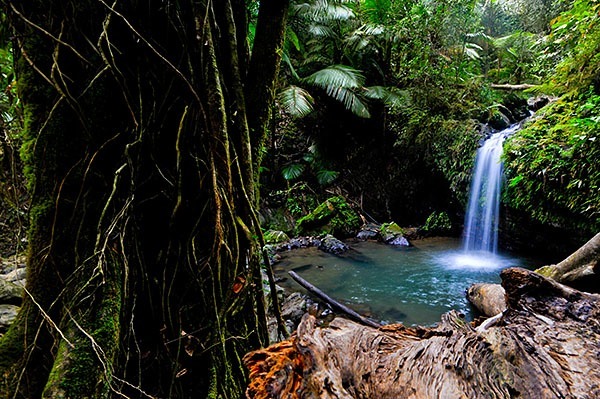 Although the rain forest doesn't have much of a night life, don't fret, the city of Fajardo is just a fifteen minute drive from the north side of the rain forest. There you will find one of the only bioluminescent bays. You can take kayak tours of this bay, and I promise it will take your breath away. Go on a cloudy night or when there is no moon and any time you move the water it glows neon blue. This is because of tiny micro organisms that live in the water. Every time you dip your paddle in, every time a fish swims by, the water glows a brilliant blue.
In conclusion, if your travels take you to Puerto Rico, go visit El Yunque. Even if you have a cruise departing out of San Juan, head down a day early. You won't be sorry you did.
El Yunque directions
From San Juan, either take highway 26 to 66 and 3 (same stretch and direction) towards Fajardo. You'll pass the rain forest to the north and can enter at a variety of locations.
Advertisements:



Alternatively, head to the southern entrances to El Yunque by going on highway 18 / 1 onto highway 30 and then 53 towards Naguabo or Ceiba.
Photos by Ricymar Photography (Thanks... and jimsideas on flickr
You should follow me on twitter here.