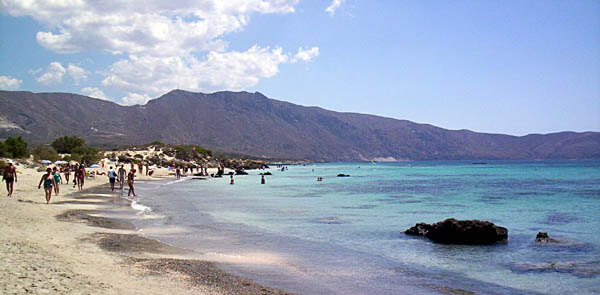 It may feel like a dream to you, walking across that shallow reef beach that connects the paradise of Elafonisi Island to Crete. But it's no dream. Right there in the Mediterranean Sea off the southwest corner of the island of Crete is an almost uninhabited but magical island. All but forgotten for many years, Elafonisi Island is now a top spot for visitors in the height of summer who come to enjoy its pink coral sands and sparkling blue waters.
The island has seen some tragic moments in its history including the slaying of Greek women and children by the Turks during the Ottoman War. More recently in 1907 a passenger steamboat from Austria hit the rocks and sank, still resting on the sea floor today. Civilization has largely passed by the island with only a few hotels and taverns available for the visitors who flock here during the summer months. The beautiful sandy beaches and pristine waters are what bring people here, arriving either by walking over the sandy spit of land when the sea is calm, driving across or by ferry boat. The city of Chania on Crete is a prime starting point for your visit to Elafonisi Island.
While largely uninhabited there are a few places to stay if you want to extend your visit to the island. Elafonisi Village has the Alkyoni Guesthouse for overnight guests with shopping and dining close by. Named after the Greek word for deer, Elafonisi Island is a protected nature reserve. Sunning on the beautiful sand, floating in the shallows just off the beaches or snorkeling in the deeper waters are all available for you in this peaceful place. Come relax in this pristine gem of the Mediterranean.
Advertisements:



Photo by Dimitrios Dalagiorgos on flickr
You should follow me on twitter here.