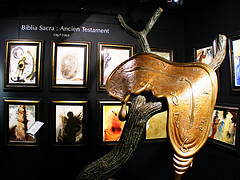 The Espace Dali is a unique exhibition in Paris that is entirely devoted to Salvador Dali. Salvador Dali was a skilled draftsman born in France in 1904 and best known for his striking and bizarre images in his surrealist work. He was highly imaginative and had an affinity for partaking in the unusual and grandiose behavior. Today there is a museum in Paris dedicated to his work.
Salvador Dali is known as the master of surrealism, who is noted for his sculptures and engravings. So on your next trip to Paris put this museum on your "bucket list" of things to see. The museum itself is a permanent exhibit and is located near the famous Place du Tertre in Montmartre. It contains over 300 works of the major 20th Century artists. It is the biggest collection of Dali's sculptures in the world.
Advertisements: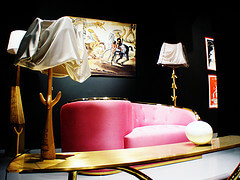 The museum is located underground in Paris, France and well off the beaten path. It is circled by black walls and lit in a way that highlights the strange forms and colors of Dali's work. It presents some of the less known sculptures and engravings of Salvador Dali.
It is the only museum in France that has a permanent exhibition of the artist's work. It is here where you discover the bronze illustration of some of the main masterpieces of western literature like Romeo and Juliet and Don Quixote. The Soft Watches or the Melting Snails are there showing the artist obsession for the fantastic and bizarre.
Espace Dali address and directions
Espace Dali Montmartre
11 Rue Poulbot
75018 Paris
Subway : ligne 2 (Anvers) or ligne 12 (Abbesses) + Funicular
Photos by .guin on flickr
You should follow me on twitter here.