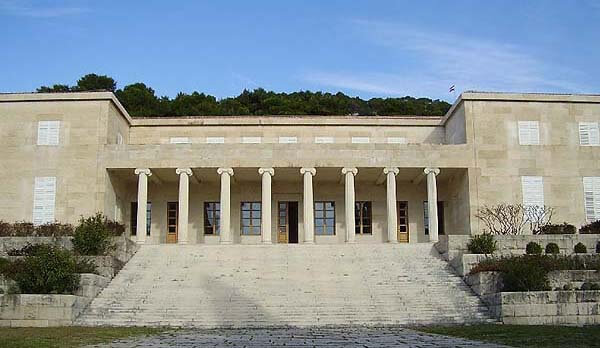 Although he may not be a household name in the West, Ivan Meštrović is considered one of the giants of 20th century sculpture, and a visit to the gallery built to hold his work in Split, Croatia, will make it clear why this is so. Built in the 1930s from a design that Meštrović himself made, the land and buildings were donated to the Croatian government by the artist in the 1950s to serve as a museum of his work. It holds a strong collection of sculptures (nearly 200), drawings, paintings, architectural plans, and even furniture designed and/or made by the prolific Meštrović.
Advertisements:



Even those not interested in art will find the gallery a delight. The beautifully landscaped grounds and gardens, which provide the backdrop for many of Meštrović's more monumental works, offer the walker a pleasant series of vistas and plenty of secluded spots perfect for a picnic lunch. The gallery's interior features large rooms with soft lighting to highlight the works themselves. Meštrović loved the human figure, and depicted it in countless poses and attitudes. Much of his work is religious in nature, and all his sculptures feature a pleasing solidity and strength that makes them easily accessible for those who are not familiar with his work.
For art historians or those who wish to study Meštrović in more depth, there are extensive archives and libraries on site which, though closed to the public, include material that can be made available to scholars with the assistance of staff. The gallery also features occasional lectures, and publishes material on Meštrović regularly.
Whether you are a devoted collector of Meštrović's work or completely new to this modern master's work, you will find a visit to the Meštrović Gallery a must-see activity that will engage and delight you.
Meštrović Gallery address and hours
Meštrović Gallery
Setaliste Ivana Mestrovica 46
21000 Split
Summer (1 May - 30 September): Tuesday to Sunday 9 a.m. to 7 p.m.
Winter: (1 October – 30 April): Tuesday to Saturday 9 a.m. to 4 p.m.; Sunday 10 a.m. to 3 p.m.
Closed: Monday, public holiday
You should follow me on twitter here.