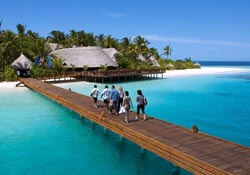 Beth Basinski treats us to the Top 10 Dive Destinations over at Matador Travel. Two of the places listed especially attracted me, as diving in the Galapagos Islands and Riviera Maya (Playa del Carmen, really) is something I'd very much like to experience.
My Senegalese Cousin, the Rice-Loving Pig is a note-worthy name of an article. Over at World Hum, an encounter with a peanut vendor and an unfortunate Senegalese name, takes an insulting turn: "The peanut vendor had not smiled once. She still looked stone cold, the neem stick dangling out of the corner of her mouth."
If you want to take a truly luxury holiday, there's a good chance you've already visited a number of the luxury travel deals sites around. But how do they actually stack up? What's your best luxury on a budget resource? HalogenGuides has a roundup of the 10 biggest and best in How Do the Top 10 Luxury Travel Deal Sites Measure Up?
"The world-famous bulls, horses, and reindeer in France's Lascaux cave have survived in pristine condition for 17,000 years, but they may be history soon." For more about what's happening to the world's cave art, read Cave Art in Crisis over at Intelligent Travel.
Advertisements:



If you're traveling and short of cash, Brave New Traveler has 25 Ways To Earn Money When You're Broke On The Road for you. Among them are busking and doing some dish washing for a restaurant. The idea is that there are many ways to pick up some quick cash while traveling.
Spending a night or two in Boringsville is an inevitable part of long term travel: you need to make a train or bus connection, or it's the only place you can find some accommodation. Whatever the reason, there's no need to make your stay in a small, insignificant town boring. It can be even better than hitting the big smoke or camping out in the national park, you just have to know how. Read 7 Tips for Enjoying a Small Town Stopover over at Vagabondish.
Your article and blog tips
If you have written a great travel article or website, or found one recently that you liked, submit it in the comments below and I might include it in next month's roundup!
You should follow me on twitter here.