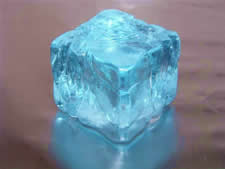 We're all used to taking care when having water or ice cubes while in developing countries. But when the Chicago Sun Times published an article on ice cube quality in Chicago, my stomach lurched and I realized that you have to be careful everywhere you go. It's not only in Mexico you'd need to follow some safety rules regarding food.
The newspaper checked the purity of ice cubes in 49 restaurants and diners across Chicago and found that more than 40% of them had higher bacterial levels than the toilet water in the Sun Building! Mostly, the bacteria found was fecal coliform, which isn't necessarily bad for you, just very disgusting.
If you're interested in what restaurants were tested and just how badly they fared, check out the Sun's article.
Dead deer?
But it's not like Chicago has cornered the market in disgusting things in restaurants. An Indiana restaurant had a dead deer in the kitchen, which posed a "gross unsanitary occurrence and condition." I'd say.
Cockroaches?
Or this Chinese restaurant in Florida, which has been shut four times because of cockroach infestations! Check out the video:
So, if dirty restaurants are so common, what should you do?
Always check if the dining area is clean
A busy restaurant is most likely cleaner
Stay away from those ice cubes!
Advertisements:



Or maybe just cook at home... which sounds better every day.
You should follow me on twitter here.