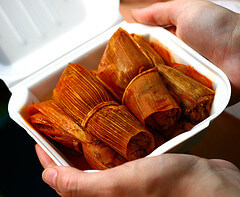 Take time out from your Christmas shopping the first weekend in December to attend the Indio International Tamale Festival in Indio, California. Indio is located 26 miles east of Palms Springs, CA and just 86 miles north of Baja, CA. The festival started in 1992.
The festival is very successful and celebrates the heritage of the tamale. The hard working tamale makers are attributed with making the festival a success.
The festival has made the Guinness book of records in 1999 for producing the world's largest tamale, which was over a foot in diameter and 40 feet long.
Like any festival food is big here, in fact, it's the reason there's a festival at all, and it's highlighted during the tamale festival with its tamale eating contest and tamale judging contest. The festival has four stages for music and dancing including Mexican Folkloric dancing, along with Carnival rides and games. Other actives are a parade, kids petting zoo, rock climbing and inflatable bounces.
Advertisements:



Attend the festival and give your self a unique experience in the middle of the hustle and bustle of the holiday season.
Photo by lucianvenutian on flickr
You should follow me on twitter here.